Watch: Researchers use rhino dung to save endangered species
Comments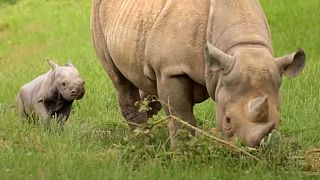 Scientists in the UK are using rhinoceros droppings for a new conservation initiative that aims to help prevent the extinction of the endangered species.
Researchers in Chester Zoo and the University of Manchester are using the faeces to identify causes of poor population growth.
"We're using physiological bio-markers in poo samples; so a non-invasive method, no disturbance to the animal," explained Dr Danielle Gilroy, a researcher at Chester Zoo.
"We're trying to develop these bio-markers that — through the poo — we can see how stressed the animals are, what condition they are, their individual health, are they reproducing — all these different factors basically indicate their fitness," she continued.
The project, which was labelled "saving species with faeces" by the team, has a strong emphasis on studying the critically endangered black rhinoceros which hails from Kenya.
The £1.1 million (€1.23 million) joint initiative aims to promote natural reproduction among endangered species.
The zoo has been successful in breeding critically endangered species, having bred eastern black rhinos for several years.