Canada-U.S. trade talks break down without a deal
Comments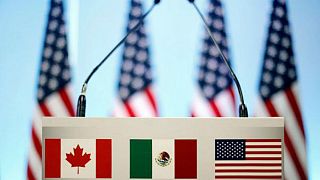 Trade talks between the US and Canada have ended without a deal.
The bid to update the North American Free Trade Agreement between the US, Canada and Mexico had been going for a week but was soured by President Trump's leaked comments that any deal would be "totally" on US terms.
But Ottawa stood firm:
"We're looking for a good deal. Not just any deal. And we will only agree to a deal that is a good deal for Canada. We're not there yet," Canada's Foreign Affairs Minister, Chrystia Freeland told reporters.
Trump said he will sign a bilateral agreement with Mexico in 90 days, which Canada can join "if it is willing."
Trump wants a deal that eliminates dairy tariffs that he says hurt US farmers:
"I love Canada. But they've taken advantage of our country for many years. They have tremendous trade barriers and they have tremendous tariffs. Dairy products are almost three hundred percent tariff. Nobody talks about that."
But dairy farmers have major political clout in Canada too and concessions could hurt Prime Minister Trudeau ahead of next year's elections.