Europe briefing: Eight stories to know about today
Comments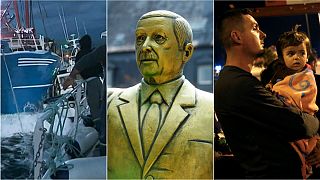 1. Scallop wars? British and French fishermen clash at sea
French and British boats have clashed in the sea off the coast of Normandy over the fishing of scallops.
Stones and insults were thrown amid altercations 12 nautical miles from the French coast, where the British are entitled to fish.
The clashes, which also saw dangerous manoeuvres made, involved 35 French boats and five from the UK.
The French are only allowed to fish the scallops there between October 1 and May 15, but the British have no such restrictions.
2. Putin waters down controversial pension reforms
Russia President Vladimir Putin has today rowed back on controversial pension reforms.
There had been proposals on the table to raise the retirement age from 60 to 65 for men and 55 to 63 for women.
The draft reforms had helped push Putin's approval rating to its lowest level for more than four years.
But on Wednesday he said he wanted to soften the proposals, including only raising the pension age for women by five instead of eight years.
Putin said Russia's working age population is shrinking and that delaying reforms would threaten the country's security and society's stability.
3. Ferry fire in Greece
A passenger ferry with 1,016 people onboard caught fire in the early hours of Wednesday.
The blaze is thought to have originated in the car parking compartment of the Eleftherios Venizelos vessel, which was travelling from Piraeus to Crete.
There were no immediate reports of injuries, a coast guard official told Reuters, and the ferry returned to Piraeus.
It was sailing near the island of Hydra when it notified the Greek coastguard of the fire.
4. Controversial Erdogan statue removed
German firemen on Wednesday removed a golden statue of Turkish President Tayyip Erdogan on security grounds after it provoked an angry response from locals.
Organisers of an arts festival in Wiesbaden installed the four-metre statue but it got daubed in graffiti, including the slogan "Turkish Hitler".
Police said they could no longer guarantee people's safety so firemen used a large crane to take away the statue under the cover of darkness in the early hours of Wednesday.
Some three million people with Turkish roots live in Germany and Erdogan, who in June won re-election with expanded powers, is due to make a state visit to Berlin on September 28-29.
5. U2's Bono makes Europe plea
"Europe is a thought that needs to become a feeling."
They are words of U2 lead singer Bono, who says the group will be waving the EU flag as they kick off a tour in Berlin later this week.
Writing in a German publication, the Irish songwriter says he's proud of Europe and what it's achieved. But the accomplishments are under threat, he adds, because respect for diversity is being challenged.
He takes a swipe at nationalism, saying it's been fuelled by uneven globalisation and a failure to tackle the migration crisis.
6. Pope Francis' first public appearance since cover-up allegations
Pope Francis was set to make his first public appearance on Wednesday after returning from Ireland amid accusations from a former top Vatican official that he knew about the sex misconduct scandal of an American cardinal but did nothing.
Pope Francis has refused to comment on the allegations by Archbishop Carlo Maria Vigano and a Vatican spokesperson told Euronews it's unlikely a statement will be forthcoming on the issue.
Euronews' Italy correspondent Claudio Lavanga says the letter has exposed the growing and bitter infighting within the Catholic Church between liberal and conservative factions.
7. Switzerland sunsets ... made in Canada
Parts of Switzerland enjoyed dramatic dawns and stunning sunsets on Tuesday and it's all down to forest fires in Canada, it's been claimed.
Swiss meteorologists, SRF Meteo, said westerly winds had driven clouds of smoke from blazes in British Columbia across the Atlantic.
The fine smoke particles helped to provide a filter from the sun, scattering the hues of the sun, they added.
8. The man who smiles at goats
Goats are drawn to people with happy facial expressions, according to a new study.
The research, led by Queen Mary University in London, is the first evidence of how goats read human emotions.
It implies that the ability of animals to perceive human facial cues is not limited to domesticated pets.
Dr Alan McElligott, who led the study, said: "The study has important implications for how we interact with livestock and other species, because the abilities of animals to perceive human emotions might be widespread and not just limited to pets."
Dr Christian Nawroth, who worked on the study, said: "We already knew that goats are very attuned to human body language, but we did not know how they react to different human emotional expressions, such as anger and happiness. Here, we show for the first time that goats do not only distinguish between these expressions, but they also prefer to interact with happy ones."