A murder, a neo-Nazi rally and violence prompt soul-searching in German city
Comments
By Reuters and Associated Press with NBC News World News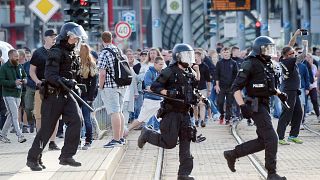 -
CHEMNITZ, Germany — Police and security officials in the eastern German city of Chemnitz faced fierce criticism Tuesday after violence during a far-right protest that left at least six people injured.
The protest late Monday, sparked by the killing of a 35-year-old German man in an altercation with Iraqi and Syrian migrants over the weekend, erupted into clashes between neo-Nazis and left-wing counter-protesters.
The German news agency dpa reported that Chemnitz police acknowledged having mobilized too few officers for the demonstration. Footage showed officers struggling to prevent far-right protesters breaking through police lines. The protesters also performed Nazi salutes and chanted "the national resistance is marching here!"
The eastern state of Saxony, where Chemnitz is located, has long been a hotbed of anti-migrant sentiment. The far-right Alternative for Germany party received almost a quarter of the vote in Chemnitz last year.
The opposition Green party accused Germany's interior minister, Horst Seehofer, of fanning anti-migrant sentiment in recent months and urged him to think about resigning in the wake of the violence.
Foreign Minister Heiko Maas expressed concern that Germany's reputation could suffer as a result of violent far-right protests.
"We have to keep in mind that these are pictures that will be seen abroad," Maas told reporters in Berlin. "But I don't think that what was seen there even comes close to reflecting the reality in Germany. I firmly believe that the majority of people living in this country want an open and tolerant country."
On Monday, police said they brought in water cannons after fireworks were thrown from both sides, causing injuries.
State and local officials appealed for calm as thousands of people took to the streets and Chancellor Angela Merkel's spokesman said Germany would not tolerate "vigilante justice."
The unrest reflected a growing schism in German society after Merkel's government allowed about 1 million asylum seekers to enter the country in 2015, triggering a shift to the right in German politics.
Europe
Over a thousand leftist protesters massed near a giant statue of Karl Marx in Chemnitz on Monday evening to protest attacks on foreigners that occurred during an impromptu demonstration Sunday after reports spread on social media about the stabbing of a 35-year-old German man.
"The scenes of people going after those who look like foreigners scare us. We want to show that Chemnitz has another side that is cosmopolitan and opposes xenophobia," Tim Detzner, the head of the radical Left party in Chemnitz, told the rally.
Nearly the same number of demonstrators waving German and Bavarian flags gathered nearby, some breaking through police barriers aimed at keeping the two sides apart. Many chanted "We are the people," a slogan used by far-right supporters.
The police in Saxony said on Twitter that the demonstration had ended and they were accompanying participants to the train station.
If the state is no longer to protect citizens then people take to the streets and protect themselves. It's as simple as that!
Tensions were running high after some 800 demonstrators — including about 50 that police described as ready to commit violence — had taken to the streets on Sunday after the stabbing, which police said occurred after an argument.
Local prosecutors said they had arrested two suspects, a 22-year-old Syrian man and a 21-year-old Iraqi man.
Television news channels broadcast amateur footage of skinheads chasing a man through the streets at Sunday's protest. Police said they were still investigating reports of injury filed by Syrian, Afghan and Bulgarian people, and at least four demonstrators had been charged.
"We don't tolerate such unlawful assemblies and the hounding of people who look different or have different origins, and attempts to spread hatred on the streets," Merkel's spokesman Steffen Seibert told a regular news briefing.
Europe
"That has no place in our cities and we, as the German government, condemn it in the strongest terms," he said. "Our basic message for Chemnitz and beyond is that there is no place in Germany for vigilante justice, for groups that want to spread hatred on the streets, for intolerance and for extremism."
Roland Woeller, interior minister of the state of Saxony, which includes Chemnitz, said authorities would not allow "anarchists" to run rampant. He warned against "misinformation and lies" circulating in social media.
The arrival of huge numbers of migrants from the Middle East three years ago has fueled support for far-right groups such as PEGIDA and the Alternative for Germany (AfD), now the main opposition party in parliament.
Tweeting about Sunday's incident, AfD politician Markus Frohnmaier said: "If the state is no longer to protect citizens then people take to the streets and protect themselves. It's as simple as that!"