Reality TV show gets participants to 'live like refugees'
Comments
By Saphora Smith and Corky Siemaszko with NBC News World News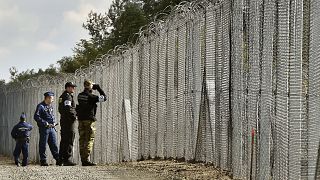 -
A reality TV show to be aired in Poland this fall will follow participants as they travel backward along Europe's migration trail — ending up in Iraq.
"Go Back to Where You Came From" will feature six people as they "live like refugees and with refugees" for almost a month, according to theTVN television network.
They traveled with just their passports, some money and their cellphones through Germany, Austria, Hungary and Serbia before reaching Greece, where they boarded a boat to cross the Mediterranean Sea.
News
Participants also spent time in a refugee camp and finished their journey in the Kurdistan region of Iraq.
Producers say the six Polish nationals selected had different opinions on the migration crisis.
"This will be one of the hardest journeys of their lives," the network said in a press release. "How will this journey change the views on immigration for our heroes? Will this change the way they look at their own lives?"
Critics have accused the producers of "Go Back to Where You Came From," which is based on an Australian show of the same name that aired from 2011 to 2015, of exploiting the suffering of migrants for commercial gain.
But Bogdan Czaja, assistant program director at TVN, was quoted by Poland's media industry "Press" news outlet as saying that he hoped the show would contribute to the debate around migration.
"We are aware that this is a politically sensitive and controversial issue," he told the website. "We want this [the show] to be part of the dialogue."
Despite the artificial scenario at the heart of the show's premise, its makers bristle at it being described as reality TV and insist it is a documentary.
Piotr Kraśko, a journalist who accompanied the show's six participants on their journey, said that "the issue of refugees is one of the most important topics of discussion" in countries across Europe.
He added, "I do not believe that anyone would engage in its production if they thought that something unethical was in it."
In personal discussions with refugees from countries including Syria, Rwanda, Libya and Iraq, Kraśko said almost all of them "were convinced that the world has forgotten about them."
He said the trip started in Berlin with a group that once helped Polish refugees and immigrants but now focuses on people who have fled Syria, Afghanistan and Iraq.
Kraśko added, "The last part of our trip was northern Iraq and Kurdistan, where in refugee camps we met those who had escaped from ISIS, mostly Yazidis, but also Sunnis and Iraqi Christians."
The migration trail across the Mediterranean Sea and beyond caught the world's attention in 2015 as boatloads of migrants seeking new lives in the West arrived on Europe's shores. Germany later opened its borders and welcomed one million asylum-seekers that year.
Around 27,000 migrants have died while trying to cross the Mediterranean Sea since 1993.
World news
Attitudes toward refugees in Poland have hardened since the peak of Europe's migrant crisis three years ago, despite the fact that the country remains one of the most homogeneous societies in the European Union.
Poland has the smallest foreign-born population of any European nation, at less than 2 percent. The proportion of people who were born outside the European Union is even smaller, at 1.1 percent. But like elsewhere in Europe, Poles significantly overestimate the proportion of people in their country from outside of the bloc — believing they make up 10 percent of Poland's 38 million-strong population.
A poll conducted by the country'sCenter for Research on Public Opinionin June found that 5 percent of people in Poland believed refugees fleeing war should be allowed to settle in the country. Some 29 percent said refugees should be allowed to stay until they can return home, while 60 percent said refugees fleeing conflict shouldn't be accepted.
News
The same poll conducted in May 2015 found that 14 percent of Polish people felt refugees fleeing conflict should be allowed to settle, while 58 percent said they should be able to stay until they can return home and 21 percent said they shouldn't be accepted.
The Polish government has repeatedly resisted taking in migrants from the Middle East and North Africa, saying it has taken in thousands ofasylum-seekers from the conflict in Ukraine instead.