No amount of alcohol is safe for your health, study finds
Comments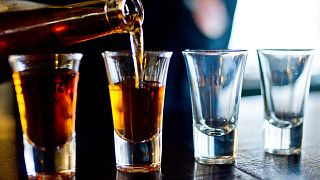 -
Even the smallest amount of alcohol is bad for your health, a new study has found.
The Global Burden of Disease study reveals that although moderate drinking may protect from specific diseases — particularly ischaemic heart disease and diabetes — the positive effect is completely offset "by the risks associated with cancers, which increased monotonically with consumption."
Published this week in The Lancet, the study is one of the most significant to date, according to the researchers due to the breadth of its data.
Researchers looked at data from 195 countries and territories between 1990 and 2016 from people aged 15 to 95 years old who did not drink at all or had just one drink a day.
2.4 billion drinkers
According to the study, 2.4 billion people around the world consume alcohol on a regular basis, including 1.5 billion males and 0.9 billion females.
Denmark has the highest percentage of men (97.1%) and women (95.3%) who reported drinking in the previous year.
In 2010, Belarus was the country where alcohol was consumed the most, with an average of 17.5 litres drunk per capita, according to the World Health Organization.
The highest levels of alcohol consumption per capita can be found in Europe with the top 10 made up exclusively of nations from the Old Continent.
2.8 million deaths
Alcohol use was blamed for 2.8 million deaths in 2016, according to the study, and was the seventh leading risk factor for premature death and disability.
The risk is even more pronounced amoung younger people. According to the study, nearly 10% of global deaths of people aged 15-49 in 2016 were because of alcohol use and it is leading risk factor for premature death and disability among that particular age group.
It also emphasised that health loss due to alcohol use was more pronounced for men than it is for women.
"The level of consumption that minimises health loss due to alcohol use is zero," the authors wrote.
"The findings strongly suggest that alcohol control policies should aim to reduce total population-level consumption," they added.