Manafort juror says holdout prevented conviction on all 18 counts
Comments
By Phil Helsel with NBC News Politics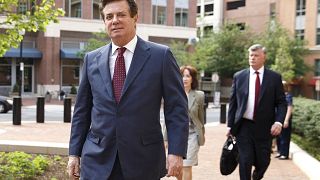 Copyright

Shawn Thew EPA file

-
Eleven of the 12 jurors in the Virginia trial of former Trump campaign chairman Paul Manafort were ready to convict on all 18 counts, but one holdout had reasonable doubt and could not be swayed, a juror said in a televised interview Wednesday night.
"There was one holdout," the juror, Paula Duncan, said in an interview on Fox News.
"We all tried to convince her to look at the paper trail, we laid it out in front of her again and again, and she still said that she had a reasonable doubt," Duncan added. "... We didn't want it to be hung, so we tried for an extended period of time to convince her. But in the end she held out, and that's why we have 10 counts that did not get a verdict."
Manafort, 69, was convicted on eight of 18 counts he faced on Tuesday. He was convicted of five counts of tax fraud, one count of failure to file a report of foreign bank and financial accounts and two counts of bank fraud.
Manafort faces an estimated seven to nine years in prison. The allegations for which he was charged predate his involvement with the Trump campaign.
A mistrial was declared on the other 10 counts, which include three counts of failing to file reports of foreign bank and financial accounts, and seven counts of bank fraud and bank fraud conspiracy.
Prosecutors built a case that Manafort for years hid millions from U.S. tax authorities in overseas accounts, spending the money to maintain a lavish lifestyle and lying to banks to generate more cash.
Manafort also faces another trial on related charges next month in Washington.
Trump on Tuesday before a rally in West Virginia said Manafort is "a great man" and of the conviction said "I feel very sad about that."
"It doesn't involve me, but I still feel it is a very sad thing that happened," Trump said on Tuesday. "This has nothing to do with Russian collusion." The president also called Mueller's investigation "a witch hunt and a disgrace."
Duncan, who is a supporter of President Donald Trump, said on Fox News Wednesday night that she came forward because "I thought that the public, America, needed to know how close this was and that the evidence was overwhelming."
"I did not want Paul Manafort to be guilty, but he was, and no one's above the law," she said.
Duncan also said on the program that deliberations occasionally got heated "and crazily enough, there were even tears," and that two jurors expressed reservations but one of those two jurors eventually changed her view to guilty, but before that frequently changed her mind.
"But the one holdout would not," Duncan said.
Duncan also said that she felt Manafort's defense didn't strongly argue their case, while acknowledging that Manafort was under no obligation to testify in his own defense.
"The charges were legitimate, but the prosecution tried to make the case about the Russian collusion right from the beginning and of course the judge shut them down on that," she said.
Asked if Trump's name came up in deliberations or if she felt the proceedings were politicized in any way, Duncan responded: "It was, just because in the evidence there were references to Trump, and to his son-in-law, and to the Trump campaign."
Manafort was charged as part of special counsel Robert Mueller's probe into Russian interference in the 2016 presidential election and other matters. The trial and conviction has been called the first public test of the probe. Several other people connected to the campaign have pleaded guilty to lying to the FBI.