Environmentalists decry Trump 'dirty power' plan: 'A recipe for climate disaster'
Comments
By Suzy Khimm and James Rainey with NBC News Politics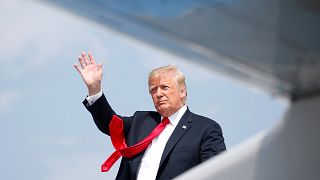 -
Environmentalists are attacking the Trump administration's proposal Tuesday to relax pollution rules for coal-fired power plants, decrying the move as a "dirty power plan" that would harm efforts to slow global warming.
The EPA's planwould replace President Barack Obama's Clean Power Plan — the centerpiece of the previous administration's efforts to combat climate change — by giving states more leeway to ease emissions rules for aging power plants.
"The world's on fire and the Trump administration wants to make it worse. This Dirty Power Plan is riddled with gimmicks and giveaways," Rhea Suh, president of the Natural Resources Defense Council, said in a statement**.**
**"**It would mean more climate-changing pollution from power plants," Suh added. "That's a recipe for climate disaster, and we'll fight this dangerous retreat with every tool available."
Unlike Trump's recent rollback of fuel efficiency rules, the new coal standards do not appear to try to take regulatory authority away from states that have been tougher on coal. That means carbon monoxide reduction rules first set by California in 2006 and by a compact of nine Northeastern states in 2009 likely can remain in place.
But many other states — including 14 that sued to block the Obama Clean Power Plan — will be able to write their own rules for coal-fired power plants. Those are expected to include technical adjustments within the plants themselves to burn coal more efficiently and not more elaborate plans to shift energy to alternative fuels, like natural gas or wind and solar power.
"We expect the EPA to give the states lots of time to come up with their plans," said Liz Perera, the Sierra Club's climate policy director. "So it will be delay on top of a throwaway do-nothing policy that doesn't set specific limits on the companies."
Conrad Schneider, advocacy director for the Clean Air Task Force, agreed that the changes that will be allowed under Trump's new rules will amount to "essentially replacing worn out equipment, which will allow these plants to run longer and harder and to create more pollution."
The Trump administration hailed its new proposal for lowering energy costs for ordinary families and businesses.
"Today, we are fulfilling the president's agenda," acting EPA administrator Andrew Wheeler told reporters, touting its proposal for promoting "affordable, clean, and reliable energy for all Americans."
The EPA estimates that its plan will reduce retail electricity prices by 0.2 to 0.5 percent by 2025 and ramp up coal production for power-sector use by 4.5 to 5.8 percent, according to the agency's cost-benefit analysis. The Obama-era rules, by contrast, "would have driven up energy prices for consumers and businesses alike," Wheeler said.
The administration acknowledged that greenhouse gas emissions "that adversely affect human health" would rise under its proposal, as compared to Obama's Clean Power Plan, according to the EPA's technical analysis of the plan's impact. The EPA report cited an analysis estimating that premature deaths from one pollutant could rise by up to 1,400 per year by 2030, compared to the Obama-era rules, as first reported by The New York Times.
Bill Wehrum, the head of EPA's clean air office, admitted there would be "collateral effects" of rising emissions, but said the agency could take other steps to combat them. "We have abundant legal authority to deal with those pollutants directly," he told reporters.
Obama's EPA projected that its plan would prevent 90,000 asthma attacks, 1,700 heart attacks and 3,600 premature deaths per year and reduce health care expenditures somewhere between $14 billion and $34 billion.
Coal interests applauded the proposal, seeing it as a lifeline for their beleaguered industry.
"The Clean Power Plan looked at displacing coal with renewables and natural gas and to issues outside the actual power sources," said Michelle Bloodworth, president of the American Coalition for Clean Coal Electricity, an industry group. "We feel like the EPA proposal now is based on a correct reading of the Clean Air Act."
Suzy Khimm reported from Washington, D.C., and James Rainey from Los Angeles.