Paris Aquarium offers sanctuary to 600 goldfish
Comments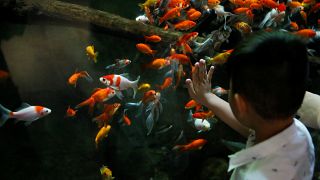 Copyright

REUTERS/Pascal Rossignol

-
Two years ago, The Paris Aquarium decided to open a new kind of sanctuary: one entirely dedicated to the humble and ubiquitous goldfish.
Nowadays, more than 600 specimens of varying shades of shimmering orange fill in enormous tanks, donated by individuals concerned about animal welfare and who recognise they might not be able to give their aquatic pet the life they deserve.
"The fish bowl is a prison. It's torture," Celine Bezault, biologist at the Paris Aquarium, told Euronews.
"Water stagnates and the fish breathes in water in which it's defecated and been fed and that might not be cleaned regularly.
"Often, goldfish are alone but they're very social. They prefer being in a swarm, they need contact," she explained.
Those conditions stress the animal and stunt its growth. A healthy adult goldfish can grow to 30 cm and live for up to 20 years, but in a fish bowl it remains small and only lives up to four years, according to Bezault.
'Pets not ornaments'
Similarly to other animal shelters, the aquarium registers a small bump in donations during summer months. That's because of school and street fairs in which children win goldfish as prizes "even though it should be forbidden," Bezault said.
But overall, since its inception, the sanctuary has received an average of 50 fish per month.
Once donated — the previous owner has to fill in a form — it goes through a 40-day quarantine before being allowed to join the bigger tanks.
The idea behind the sanctuary was to change people's mindset and educate them on the best practices to keep a goldfish, Bezault explained.
For a goldfish to live adequately and be happy, it requires a 100-litre fish bowl with filtering, decoration and a partner, the Aquarium advises.
"People need to realise that these are pets, not ornaments," Bezault said.