Israel gun law change 'will help thwart lone-wolf terror attacks'
Comments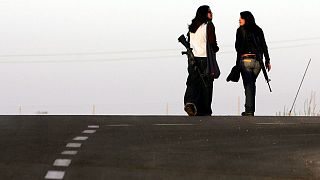 Israel has changed its gun laws and opened the door to thousands more of its citizens applying for licences.
Gilad Erdan, Israeli's public security minister, said the move could help counter "lone-wolf attacks" by Palestinians.
The change, announced late on Monday, could see up to 600,000 Israelis apply for gun licences.
But a source in the public security ministry told AFP news agency that only an estimated 35,000 people would be interested in applying.
Erdan was also keen to play down the law change and rejected comparisons with the US, where 15,549 were killed by guns last year, excluding suicides.
"There's no intention to reach a situation like in the United States," he told public radio on Tuesday.
"Here we conduct background checks on people's past, their health, including mental health -- you need permits from the health ministry and police."
Under the new regulations, any Israeli who had extensive infantry combat training can apply for a gun licence.
Most Jewish Israelis must complete obligatory military service after they turn 18, but only a minority receive such training.
"Many civilians saved lives during attacks and, in an age of 'lone-wolf terror', the more trained civilians carrying arms, the higher the chances of thwarting attacks and minimising casualties," Erdan said in a statement.
Michal Rozin of the Meretz party said the new rules would not diminish the risks of militant attacks but rather "significantly increase the risk to the lives of women and children" in domestic violence cases.