Iran unveils 'domestic' fighter jet, says military power deters US
Comments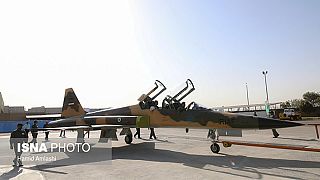 Iran has unveiled a new fighter jet, state media has reported, amid ongoing tensions in the Middle East between Tehran and regional rivals.
The Tasnim news agency said the Kowsar jet was entirely made in Iran, capable of carrying various weapons, and would be used for short aerial support missions.
State television showed live pictures of a ceremony in Tehran in which the fighter jet flew in the presence of the country's president, a day before the country's National Defence Industry Day.
Speaking live on television later, Hassan Rouhani said the Islamic Republic's military prowess was what deterred Washington from attacking it, and vowed to boost Iran's military might.
"We should make ourselves ready to fight against the military powers who want to take over our territory and our resources," the president said.
"Why does the United States not attack us? Because of our power, because it knows the consequences," Rouhani added, echoing comments last week by Iran's Supreme Leader Ayatollah Ali Khamenei.
Iran has sent weapons and thousands of soldiers to Syria to support the Assad government in the country's civil war – but Russia has provided air power due to Iran's lack of a strong air force.
It's thought Iran's air force has been limited to a few dozen ageing Russian or US models acquired before the 1979 Iranian revolution.
In 2013 the country unveiled what it said was a new domestically-built fighter jet, but some experts expressed doubts about its viability.
Barred from importing many weapons because of international sanctions, Iran has developed a large domestic arms industry.
The Trump administration has demanded that Tehran curb its defence programmes and is in the process of reimposing sanctions, following the US withdrawal from the international deal on Iran's nuclear programme.