Merkel meets Putin | Euronews Answers
Comments
By Jessica Saltz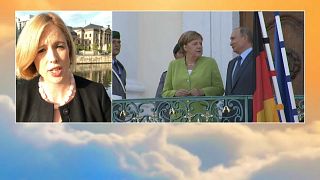 Angela Merkel met Vladimir Putin on Saturday - Euronews' Jessica Saltz offers her interpretation of what the world learned from the event.
What are the big issues on the agenda?
Angela Merkel and Vladimir Putin outlined the main topics they would be discussing ahead of their meeting - this was seen as a sign that they didn't plan to reach any definitive outcomes. They said they would discuss the need for resolution in Syria, with Putin calling for European support in returning refugees to the war torn country and helping with reconstruction. They also discussed eastern Ukraine: the German government wants a UN peace-keeping mission to oversee the ceasefire. The third main topic was the Nord Stream 2 gas pipeline, which is due to be completed by 2019 and would see 110 cubic metres of gas transported a year from Russia straight to Germany though a pipe under the Baltic sea.
Why does the pipeline remain controversial?
The route the pipeline will take under the Baltic sea means it will bypass current transit countries such as Ukraine, Slovakia and Poland, who will lose out on current transport fees. Merkel wants to encourage Putin to include Ukraine in the project which he has said he will consider. Once completed, the pipeline would see Germany become a transport hub for Russian gas and increase its own use. Some politicians and EU officials are critical of this reliance on Russian fuel.
How are relations between Russia and Germany?
Despite political tensions between Moscow and Berlin on a whole range of international topics from the war in Syria to Iran and potential Russian meddling in international elections, Merkel is determined to keep the dialogue with Russia as open as possible. Merkel and Putin have worked with each other as leaders for several years, they speak each other's languages and know each other's countries and this connection should not be underestimated. When Barack Obama was in office, Merkel was seen as a key mediator between Russia and the United States. The relationship between Germany and Russia has become complicated since the advent of Donald Trump, but Merkel maintains the importance of talking to Russia as often as possible despite any ongoing conflict.