Peru tightens entry requirements for Venezuelans
Comments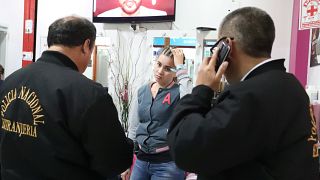 Peru has joined its South American neighbour Ecuador in tightening entry requirements for Venezuelan migrants fleeing their nations economic and humanitarian crisis.
The new measures will bar migrants from entering the country unless they have passports.
Peru's Interior Minister Mauro Medina says change was necessary to prevent an influx of possible criminal elements. "The situation that we have is the vast majority of the people that come to our country, evidently, are here for various reasons, but there are always some, some, that filter through who commit crimes and it is obvious that they have to follow Peruvian laws, the laws of the country that shelters them."
Previously, Venezuelans were able to enter Peru with only their national ID cards - a significant advantage for migrants, who struggle to obtain passports amid chronic shortages.
The United Nations estimates 2.3 million Venezuelans have fled the country since 2014, with thousands arriving in Peru every day.