Watch: Mural made by oldest civilisation in the Americas unveiled
Comments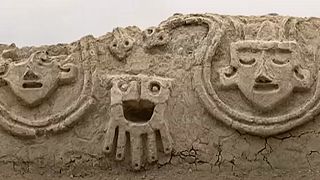 Archaeologists have discovered a 3,800-year-old mural which dates back to the oldest civilisation in the Americas, the lost Caral people.
The discovery was made at the 5,000-year-old Vichama archaeological site in northern Peru.
The mural depicts the civilisation and snakes. Experts assert that this symbology represents the fertility of the land.
Excavations have been ongoing at the Peruvian site for over a decade, with researchers continuing to learn more about the complex city plan and the ways the ancient people lived.
Experts have been puzzled as to what caused the Caral civilisation to curiously collapse in 1100 CE.
Although a conclusion has yet to be made, a popular theory is a change in climate, with the region becoming increasingly arid through time.
Some of the worlds most spectacular archaeological sites have been found in Peru, with the countries dry environment proving ideal for the preservation of ancient sites.