US threatens new Turkey sanctions over Christian pastor
Comments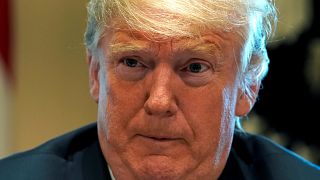 The United States is threatening new sanctions against Turkey if it continues to detain an American evangelical pastor.
President Trump tweeted on Friday (August 17) that the US "will pay nothing" for Andrew Brunson's release, "but we are cutting back on Turkey!"
US Treasury Secretary Steve Mnuchin told Trump on Thursday (August 16) that he and Secretary of State Mike Pompeo had put sanctions on several Turkish ministers and "have more [they] are planning to do" if Brunson isn't released soon.
Turkish officials say the case is a matter for the courts.
Ibrahim Kalin, a spokesperson for Turkish president Recep Tayyip Erdogan, said France and Germany are standing with Turkey in the rift with the US.
"Both leaders, leaders of two important European c ountries, specifically said the strength of the Turkish economy, the maintenance of economic stability is important not just for Turkey but also for the European and global economies. They also shared with our president that the Trump administration's tendency to use trade, dollars, taxes as weapons was wrong."
The Turkish Lira has lost nearly 40 percent of its value against the US dollar since the start of the year.
But the country's finance minister said Turkish banks are healthy and can withstand the dispute with Washington. He said Turkey has no plans to ask for IMF for support with the falling lira.