Mystery surrounds Stormy Daniels decision to withdraw from U.K. reality show
Comments
By Alastair Jamieson and Sarah Fitzpatrick with NBC News World News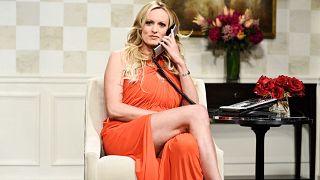 -
LONDON — Adult film star Stormy Daniels pulled out of the British edition of "Celebrity Big Brother" on Thursday night, but there were conflicting explanations for her last-minute withdrawal.
The 39-year-old, who claims she had an affair with Trump more than a decade ago and is suing the president, did not appear as planned on the reality show's season opener.
British tabloid The Sun reported that Daniels, whose real name is Stephanie Clifford, withdrewafter producers refused a demand for more cash to take part.
However her lawyer, Michael Avenatti, told NBC News that there had been no pay dispute.
"When Stormy realized that the show's producers were trying to produce a certain result, and she wasn't going to be free to be herself as planned, she withdrew," he said.
Channel 5, which airs the reality series, declined to comment.
In a further twist, Daniels began talks to appear as a surprise guest on "Loose Women" — a British daytime panel show similar to ABC's "The View" — but again pulled out at the last minute.
The actress told one of the hosts backstage that she could not come on air because of legal issues.
Jane Moore told viewers of the live show that Daniels had withdrawn from "Celebrity Big Brother" because of a sudden custody issue in her ongoing divorce battle and she felt she had to concentrate on her child.
Moore described Daniels as "very angry" at newspaper reports she had asked for more money, which she said were untrue.
"This is obviously her side of the story," Moore said. "She's feeling as though she's had the power taken away from her."
Another host, Kaye Adams, said: "She had been ready to come one. We had been talking to her people all morning, back and forth. As I'm sure you will appreciate, there are huge legal implications. Something happened, we don't quite know what."
Daniels alleges in a civil lawsuit that she and Trump had an intimate relationship that lasted from summer 2006 "well into the year 2007" and which included meetings in Lake Tahoe and at the Beverly Hills Hotel.
The White House denies Trump had an affair with her.
But Trump's private attorney, Michael Cohen, admitted in February he had paid her $130,000 — which she says was to buy her silence over the "intimate relationship."
NBC News reported in April that Daniels is cooperating with federal investigators as part of their criminal investigation into Cohen.
In May, Trump said Daniels was paid to stop "false and extortionist accusations" she made about a sexual encounter with him. Trump has forcefully denied the affair.
Daniels has filed two lawsuits against Trump, one to get out of a nondisclosure agreement she signed in October 2016 ahead of the November presidential election in exchange for the $130,000, and another for defamation.