Redditor solves hit-and-run mystery by identifying broken car part
Comments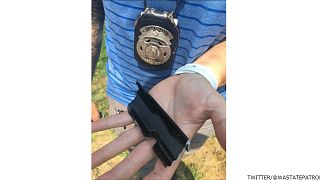 Copyright

Twitter/@wastatepatrol
A Redditor successfully identified a small, broken car part, which led to an arrest in a fatal hit-and-run crash investigation.
Washington State Police posted a photograph to their Twitter account on August 9, appealing for help recognising a fragment from an unidentified black vehicle.
The car had been involved in an accident that saw a cyclist killed, they said.
It was only when the image was shared on Reddit that user JeffsNuts was able to place the random piece as a headlamp bezel from a 1988 Chevy Silverado.
"Check the upper section," he wrote on the platform, linking to a picture of the vehicle.
Washington State Police Trooper Johnna Batiste confirmed that JeffsNuts' information, along with a local, anonymous tip, led to an arrest on August 15.
The Redditor explained on the website how he knew such precise information: "I've been a Maryland state inspector for a long time, and part of each car and truck inspection up until recently was a mandatory headlamp adjustment."
"Right away I knew what that notch in the plastic was for," he added.
Reddit users reacted with admiration for the truck aficionado.
Others reflected on how their own, seemingly useless, knowledge might prove helpful one day.