Gunman attack government training centre in Kabul
Comments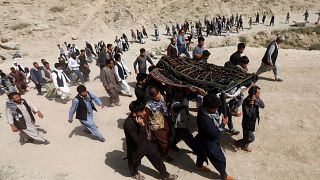 Gunmen attacked an intelligence training centre in the Afghan capital Kabul on Thursday in what is turning out to be a deadly week in the war-torn country. Officials said the attackers clashed with security forces throughout the morning as national TV show footage of soldiers patrolling the streets.
The attack came just hours after a suicide bomber targeted an education centre where students were studying for university entrance exams. Over thirty were killed, many of them Shias
"It does clearly demonstrate that the Taliban, even though they have been some tentative steps towards talking about a peace process and obviously the meeting between the Taliban and the US and Qatar.....is not ready to relinquish on the ground military presence at the moment," Royal United Services Institute Senior Research Fellow, Emily Winterbottom, told euronews.
The bomb attack was claimed by Islamic State militants. They operate separately from the Taliban although mourners of the victims see them in the same light and simply want the violence to stop
"We want peace in our country," said one relative of a victim. "We cannot continue this bloodshed anymore. We demand the government and government forces stop the war and work towards peace and brotherhood. We have sacrificed enough, many mothers and fathers lost their loved one during the war."
This latest upsurge in violence comes just a few weeks after an unprecedented ceasefire between the Taliban and government forces gave some hope for the future. But in the emotion of the day, some mourners were dismissive of the cessation and any talks with the militants