Sister Bernadette Moriau carries message of hope to Lourdes
Comments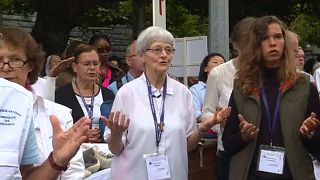 Today marks the 145th pilgrimage of the Assumption of Mary. 25,000 people are expected at the sanctuary of Lourdes in southwestern France for an international mass celebrating the pilgrimage.
Among them, is Sister Bernadette Moriau, whose healing in 2008 wasn't recognized as "miraculous" by the Catholic church until earlier this year.
"For once, it's difficult to go unnoticed and I have many people who stop me to tell me their intentions. I welcome them and present them to the Lord in prayer," the 79-year-old Moriau said in front a crowd in Lourdes earlier this week.
For almost 40 years, Sister Bernadette Moriau suffered from a serious spinal issue, known as "ponytail" syndrome which caused her to be bedridden with paralysis.
In 2008, while laying quietly in her room, a voice prompted Suster Bernadette to remove her medical devices and stop taking morphine.
"I removed my devices (splint, corset, neuro-stimulator), stopped the morphine, and the next day I went for 5 kilometres walk in the forest with my sister-in-law," said Moriau "I understood that I was cured".
This was the 70th such miracle recognized by the Catholic church in the last 160 years.
Sister Bernadette says she still wonders why God chose her to heal when there are so many more young people who would benefit more from it.
Sister Bernadette shared Monday her reason for coming to Lourdes is carry a message of hope. She encouraged an audience gathered around her eager to hear the story of her healing.
"Keep the faith, the love of God accompanies us, whether you are sick or standing, said Moriau."