Watch: Meteor shower lights up European skies
Comments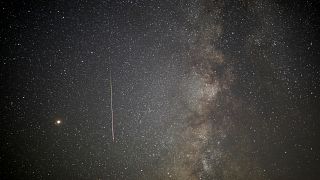 The skies above Europe and North America were lit up by meteor showers on August 11 and 12.
The "Perseids" meteor shower gave onlookers an exceptional opportunity to view shooting stars, with the best spectacles seen in the Northern Hemisphere.
The annual display, which takes place in August every year, was particularly bright this weekend due to the new moon. Unparalleled views of the space phenomenon can be seen in areas where there is little light pollution.
Meteor showers are created when rocks orbiting the Earth enter the planet's atmosphere. Upon infiltrating the atmosphere, the debris becomes burnt, and produces a bright streak in the sky commonly recognised as a "shooting star".