Denmark has ridiculed itself by banning burkas, activist tells Euronews
Comments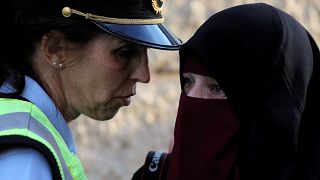 Algerian businessman and political activist Rachid Nekkaz says he intends to go to Copenhagen to pay the fines of women that have been caught wearing burkas, which are prohibited in Denmark.
In response, the populist Danish People's Party has threatened to introduce prison sentence for offenders of the ban.
Nekkaz, speaking to Euronews, said: "I regret that [Denmark], which is an example of freedom, has fallen into this trap and ridiculed itself, like France and Belgium," he said, referring to the European countries' own burka bans.
"For me (the hijab) is part of my identity, I am a Muslim woman, and I do like to identify as a Muslim woman" told Shreen Mahmood. World Hijab Day Ambassador in the UK to Euronews,
Shreen finds very difficult 
When he was last in Denmark, in March, he said that if the country should go through with the ban, he will come every month to pay the fines.
Denmark approved the ban in May.
Nekkaz has announced he will return to Copenhagen in September to pay the fines. So far, he has received eight requests from women who have been fined. He expects that number to rise by the time he arrives.
Foreign affairs spokesman for the Danish People's Party, Martin Henriksen, told Euronews he disapproved of the activist's intention.
"Mr Nekkaz' plans to pay the fines for the women, who break the law concerning full-face veils, is a blatant attempt to undermine Danish legislation," he said. "As a legislator I am obviously very critical of Mr Nekkaz' actions. I believe that we should consider taking steps towards new legislation, which addresses this problem."
He added that a prison sentence of one-to-two weeks as punishment for breaking the ban "would be appropriate".
Moreover, the money of the volunteer(s) who pay the fines of those caught will be considered taxable income, Henriksen said. That means that the price paid will ultimately be much costlier than just the fines.
But Nekkaz said he will pay the taxes too. And in the case of imprisonment, he will seek the aid of the European Court of Human Rights and the UN Human Rights Council.
Nekkaz has also reprimanded the Danish government on his Facebook page.
"The Danish government is losing its nerve and is threatening women wearing niqabs with 14 days in prison," he wrote.
Since 2010, Nekkaz has been paying the fines of women that both refuse to remove their veil in European countries, and refuse to wear them in Muslim ones.
According to him, he visited Iran in March to free 29 imprisoned women who had refused to wear the veil, and paid a deposit of over €77,000 to release one of them.
"I defend the freedom to wear or not the veil in the street," Nekkaz said. "The street must remain the universal heritage of freedom."
If you're claiming that oh poor Muslim women are forced to wear a burka" the way to deal with that is not to make fun of it, and certainly not on a public platform for him to go and say that.