Coming too soon? Calls to delay poster proclaiming Vilnius as Europe's G-spot are rejected
Comments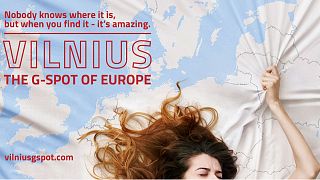 A risqué advertising campaign that compares Vilnius to the female G-spot has stirred controversy ahead of the Pope's visit next month.
Tourist chiefs in Lithuania's capital are launching a poster this week showing a woman in apparent ecstasy lying on a map of Europe.
It shows her hand gripping Lithuania and a caption that compares Vilnius to the G-spot: "Nobody knows where it is, but when you find it — it's amazing."
The Catholic Church of Lithuania is reported to have said the campaign strengthens the image of Vilnius as a sex tourism destination.
Lithuania's prime minister, Saulius Skvernelis, said it was a strange advertising method, while the government has called for the campaign to be postponed until after Pope Francis visits the country in September.
But Go Vilnius, the city's official development agency, is pushing ahead and plans to launch the campaign on Thursday (August 9).
Remigijus Simasius, the mayor of Vilnius, said: "When I welcome international visitors to Vilnius, whether they are investors, journalists or representatives of official delegations, I'm so often told that upon arriving in Lithuania's capital their first-hand impressions far outweigh their expectations."
Adding: "On the one hand, this assessment is very pleasing to hear, but on the other hand, it indicates that the perception of Vilnius needs to be dramatically improved to match with the reality."
The campaign was created by Lithuanian advertising students who sought to draw international attention to Vilnius and its potential as an alternative European city-break destination.
"Few people know where Vilnius really is, but when they arrive, they fall in love with the city," said Jurgis Ramanauskas, one of the students who came up with the concept.
"This insight came from our conversations with international visitors, and we formulated the idea that Vilnius is synonymous with the G-spot theory – nobody knows where it is, but, when it is discovered, everyone is very pleased!"
Vilnius received a boost earlier this year when it was featured in travel publisher Lonely Planet's 'Best in Europe' list.
It wrote: "Vilnius has found its confident, quirky voice – and it's only a matter of time before the world cottons on."
Your view | What do you think of the campaign? Have you seen a better tourism poster? Let me know: chris.harris@euronews.com