Saudi Arabia-Canada spat explained
Comments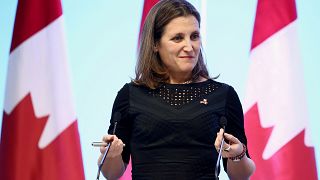 -
An ousted ambassador, suspended flights, and the recall of thousands of Saudi students in Canada. These are just a few diplomatic sanctions Saudi Arabia has imposed on Canada in the wake of a tweet over jailed Saudi activists by Canadian officials.
What was the tweet?
On Friday, the Canadian Foreign Ministry called for the release of women's rights activists Samar Badawi and Nassima al-Sadah, who were arrested on July 30th, according to Human Rights Watch (HRW).
Since May, a dozen Saudi human rights campaigners have been arrested according to Human Right's Watch.
Saudi Arabia's foreign ministry responded to the online plea to release human rights campaigners saying it's a breach of sovereignty.
Who is Saif Badawi?
Badawi, 37, has been targeted by Saudi officials for years due to her activism. She fought the kingdom's guardianship system, which forces women to gain permission from male family figures to make life decisions for them. In Badawi's case, she took her father to court in order to marry the man she chose. Her former husband, Waleed Abu al-Khair, is currently serving a 15-year prison sentence for his human rights work and her brother, the famed activist and blogger - Raif Badawi – has been sentenced to 10 years in prison and 1,000 lashes for setting a website for public discourse. He received his first 50 lashes last year, according to HRW. Raif Badawi's wife lives in Quebec, in Canada.
In 2012, former first lady Michelle Obama, and then-Secretary of State Hillary Clinton awarded Badawi an International Women of Courage Award.
What happened next?
The Saudi Kingdom was less than thrilled about Canada's "interference", saying it had no business to meddle in its domestic affairs.
Since Monday, the Middle Eastern country began imposing a flurry of diplomatic sanctions starting with the expulsion of the Canadian ambassador, Dennis Horak, who was deemed "persona non grata" on Twitter by Saudi officials, giving him 24 hours to leave the Gulf country. In tandem, the Saudi ambassador to Canada would also be recalled in light of the spat.
Then, the Saudi government announced it would freeze new trade and investment with Canada. All flights to and from Toronto would be suspended starting August 13, according to state airline, Saudia Airlines.
Next, came as a blow to Saudi exchange students studying in Canada on state-sponsored scholarship programmes, which have been suspended. This could affect 16,000 students who've been urged to study elsewhere. At McGill University, in Montreal, it said they currently have 327 students enrolled from Saudia Arabia.
"We don't yet know exact registration numbers for the coming academic year, or how those numbers might be affected by today's reported measures by the Saudi government," according to a statement sent to Euronews from the university. McGill's medical school is four years into a five-year deal with the Saudis.
Canadian officials responded by saying it would be a "shame" if Saudi students had their scholarships revoked.
Sell off Canadian assets
Now, the Saudi central bank and state pension funds told overseas asset managers to sell off Canadian equities, bones and cash holdings at "no matter the cost," according to the Financial Times.
Canada's response
Canada's foreign minister, Chrystia Freeland, did not bow to mounting pressure and replied by tweeting:
"Canada stands together with the Badawi family in this difficult time, and we continue to strongly call for the release of both Raif and Samar Badawi," Freeland tweeted.
In an address in Vancouver, Freeland addressed the diplomatic row, saying:
"We stand by what we have said. We're always going to speak up for woman's rights and that's not going to change," she said, adding that it wasn't the first time Canada has spoken out about human rights in Saudi Arabia," she said.
What's at stake?
Trade between Canada and Saudi Arabia exceeded $4-billion (€ 3.4 billion) last year, a significant portion of it came from a controversial multibillion-dollar deal to sell combat vehicles equipped with machine guns and cannons to the Saudis, according to The Globe and Mail.
Not the first time
This is not the first time Saudi Arabia has taken swift diplomatic measures against nations who criticised how they run their country. In 2015, the gulf nation recalled its ambassador to Sweden after they expressed their opinions about Badawi's brother, blogger Raif Badawi's arrest and trial.
In November 2017, Germany's foreign minister Sigmar Gabriel said Europe "could not tolerate the adventurism that has spread there", after Saudi Arabia's military intervention in Yemen and the bizarre trip Lebanon's prime minister took to Saudi Arabia - to resign. Many believed he was kidnapped and was forced to resign in duress.
As consequence for Gabriel's remarks, several German companies have been iced out.
What other nations are saying:
Bahrain, UAE and the Palestinian Authority have stood by Saudi Arabia in midst of escalating pressure, according to Saudi state media [Al Arabiya.](Bahrain, UAE, Palestinian Authority stand by Saudi Arabia in Canada row)
The United States has asked the Saudi government for more details on the detention of activists and urged it to respect due process, a State Department official said on Monday, in the first comments by Washington since a dispute erupted.
"We have asked the Government of Saudi Arabia for additional information on the detention of several activists," a State Department official said in a statement, calling both Saudi Arabia and Canada "close allies".
"We continue to encourage the Government of Saudi Arabia to respect due process and to publicize information on the status of legal cases," the official added.