Funerals held for Russian journalists killed in CAR
Comments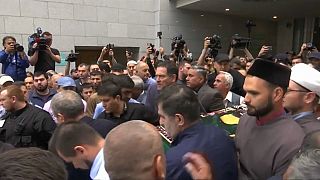 The bodies of three Russian jourmalsits, killed while reporting in Central African Republic last month, were laid to rest in Moscow on Tuesday.
Orhan Dzhemal, Alexander Rastorguyev and Kirill Radchenko were investigating the activities of a clandestine firm of Russian private military contractors.
The Russian Foreign Ministry says they were killed during a robbery. But their former colleagues have launched an investigation into their murders.
Andrei Konyakhin, chief editor of Khodorkovsky's Investigations Management Centre (TsUR) said: "We planned to film a report about Russian interests in the Central African Republic. There is a private military company that has been sent there to train local forces. Plus, Russia has interests in the gold industry, diamonds."
Friends and family have been left asking how safe the trip actually was.
Maria Zakharova, Russian Foreign Ministry's spokesperson, said: "The Embassy provided their questionnaires which they filled in at the CAR Embassy in Moscow. The purpose of visit was "tourism". We have also checked whether they submitted any other documents connected with their journalistic activities. We were told that no other journalistic accreditations or documents for video equipment transportation were issued."
Central African Republic has recently been ravaged by violence with most of the country beyond the control of its central government.
Russian officials says there was inadequate planning for such a dangerous mission.
But the journalsits' online news agency, TsUR, insists the journalists were experienced war correspondents who made their own decisions about security and were given the resources they'd asked for.