Europe's fish find heatwave too much
Comments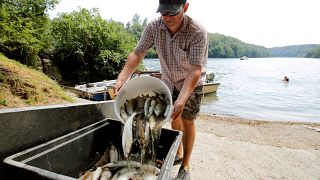 In parts of Europe the summer heatwave has been so bad, even the fish are dying.
Water temperatures in the Rhine in Switzerland have reached 27 degrees Celsius – and that's proving too much for some species.
Fishery authorities in three Swiss cantons along the river said that despite measures to add cool water about one tonne of dead fish had been collected so far, representing a quarter to a third of the annual catch.
Low water levels have also been a problem, according to the Swiss Fisheries Association.
Samuel Gründler, of the Swiss Fisheries Association, said: "In central Switzerland the situation in many small and medium-sized waters is very precarious: many lakes or rivers have no more water, the fish population has been relocated or has died."
The authorities fear a repeat of the 2003 heatwave when 90 per cent of the entire grayling population died.
But the problem is not confined to Switzerland.
Fish are also dying in the Alster River, a tributary of the Elbe in the German city of Hamburg.
The rising heat has lowered oxygen levels in the water, making it hard for fish to survive.
Europe is experiencing a prolonged heatwave, coupled with a drought that's reduced river flows across much of the continent.
The city authorities are even moving Hamburg's famous Alster swans to cooler climes.
And that could be a problem. According to local legend, Hamburg will only remain prosperous and free while the swans are there.