Mathematician has top medal stolen half an hour after winning it
Comments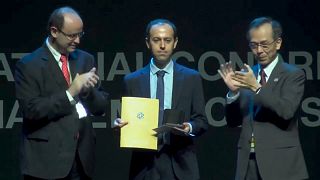 Cambridge professor Caucher Birkar was awarded the most honourable prize in mathematics--the Fields Medal--becoming the second Iranian to ever be awarded the prize. But half an hour later, it was stolen from him.
The incident took place at the International Congress of the International Mathematical Union on Wednesday in Rio de Janeiro. Birkar was jointly awarded the prize with three other winners.
The 14-karat gold medal, which is worth about €3,600, was left in his briefcase on top of a table.
The briefcase was stolen and later found without the medal, Rio news agency G1 reported, which later said the thief was identified by surveillance video.
Birkar is an Iranian refugee who has been living in the UK for over a decade. He is a major contributor to modern birational geometry, having previously received various maths awards.
The Fields Medal is presented every four years to up to four mathematicians under the age of 40.