'If Ozil wants to talk about racism, he should look at Turkey'
Comments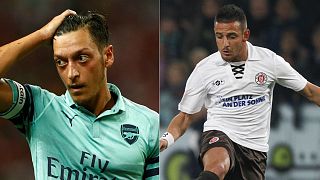 German-Kurdish footballer Deniz Naki has hit out at Mesut Ozil following his shock resignation from the German national team, telling Euronews that if the star player really cared about racism he would be directing his criticism towards Turkey.
Ozil hit headlines around the world last month when he announced that he would no longer play for the German national team because of the "racism and disrespect" he had faced over his Turkish roots.
The player said he had been subjected to "racist" commentary for having his photograph taken with Turkish President Recep Tayyip Erdogan in May, and believed he had been used as a scapegoat for Germany's early defeat at the World Cup because of his race.
"In the eyes of [German Football Association President] Grindel and his supporters I am German when we win, but I am an immigrant when we lose," he wrote in a lengthy statement posted to his Twitter account.
Following the announcement, former Germany Under-19 and Under-20 player Naki released his own statement on social media, accusing the Arsenal midfielder of hypocrisy for failing to speak out against alleged racism in Turkish football.
Speaking to Euronews this week, Naki explained his remarks.
'I was never exposed to racism in Germany'
Naki told Euronews that he had never felt persecuted because of his race while playing football in Germany.
"Me as a person born and raised in Germany, as a person who played in German national teams, I'm telling you honestly, I was never exposed to racism," he said.
"I saw neither pressure nor discrimination in the federation and in the clubs I played for in Germany."
The 29-year-old midfielder said it was in Turkey that he had been subjected to racism.
"It was Turkey where I was exposed to discrimination and racism. In Turkey, everything is going with one man's decisions. He can declare you a terrorist or treat you with great respect if he wants," he claimed.
Naki, who most recently played for Turkey Second League side Amed SK, was banned from playing professional football in the country for three years and six months in January for spreading "separatist and ideological propaganda" about the Kurds.
It followed a suspended jail sentence of 18 months last year for "spreading terrorist propaganda" in support of the outlawed Kurdistan Workers' Party.
Naki's car was also shot at on Germany's A4 highway earlier this year in what he claimed was a politically-motivated attack over his views.
The separatist PKK, which has waged a three-decade insurgency against the Turkish state, is designated a terrorist organisation by Turkey, the United States and the European Union. More than 40,000 people, most of them Kurds, have died since it first took up arms in the largely Kurdish southeast.
'Ozil should react to what happens in Turkey'
Naki argued that it was wrong of Ozil to present himself as "a person who is totally against racism".
"Does racism occur in Germany? Of course it does. But it isn't only Germany's problem, but a global problem," he said.
In particular, Naki said that if Ozil's aim is to protest against racism, he "should react to what happens in Turkey."
"I respect that he says he is a Turk. So I'm asking him, you cannot see injustices in Turkey as a footballer of Turkish descent? Why don't you see the oppression and persecution for Kurdish-origin people in the sports field and other areas and you keep silent on?
"Raise your voice against it and support them. Be a voice against the discrimination in your own country and then, we will talk about the troubles in Germany."
Naki claimed that Germany's football federation "is working professionally", while in Turkey it is beholden to politics.
"I cannot play football now in Turkey, I can be arrested even if I go to my own country," he said.
'I couldn't get the answer'
Naki said he has attempted to ask Ozil about the alleged hypocrisy, directing questions to him in Turkish, German and English.
"I have not received an answer until today. I think I won't take it anymore. Because if he answers me, he will go against all his words," he said.
"Everything was fine when he chose the German national team and not the Turkish national team, but now is it bad? Until now he was saying that he was feeling like a German, now what happened and what changed?" he asked.
Euronews has reached out to the Turkish Football Federation for comment.