EU grants Spain extra funding to cope with migrant arrivals
Comments
By Reuters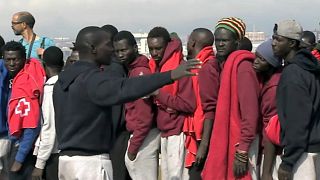 The European Commission has pledged to increase funding to Spain to help it cope with a rise in migration across the Mediterranean.
It comes after Spain's Socialist Prime Minister Pedro Sanchez expressed concern about the increase in migrant arrivals this year.
On Tuesday the Spanish Coastguard rescued another hundred migrants on six boats.
They were taken to the port of Algericas to await transfer to reception centres.
Since coming to power two months ago, Sanchez has offered shelter to hundreds of migrants rejected by other European nations.
It has drawn criticism from opponents, who accuse him of encouraging people to travel there while other countries tighten border controls.