Silk Way Rally: Nasser Al-Attiyah charges into second spot
Comments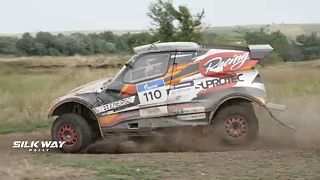 Nasser Al-Attiyah (Toyota Hilux n°101) moved up to second overall in winning the sixth and penultimate stage of the Silk Way Rally in the car class.
The four-time winner of the FIA All Terrain Rallies World Cup and two-time Dakar winner took a combative approach to the day. 
With a car that was at last repaired and able to function to its full potential, the Qatari driver literally flew over the special stage, overtaking one by one, each of the eight competitors that started in front of him. It was his third stage win in this edition of the race.
Al-Attiyah said: "Today everything good, we made a good stage and I am quite happy to finish the day without any problems."
Yazeed Al Rajhi (MINI John Cooper Works n°103), finished third on the day to maintain his comfortable overall lead. He took a different approach to Al-Attiyah. 
Al Rajhi's goal was to take the fewest possible risks before Moscow. He was happy to simply manage his comfortable one-hour lead and rely on the proven reliability of his Mini.
"Today everything good, we had a good stage," said Al Rajhi. We started with a sandy track with dunes and then the finished with a lot of mud and a lot of water. We took it easy because we didn't need to push and I'm happy to finish the day without any problems."
Mattheiu Serradori was making gains on the race leader before disaster struck. Unable to fix his mechanical issues the Frenchman had to be towed. He lost four hours on the day. 
Andrey Rudskoy suffered a similar fate leaving him also left him needing a tow. The Russian drops to fifth overall.
In the trucks section, Andrei Karginov (Kamaz-Master n°309) grabbed his third stage victory to take the overall lead on the eve of the finish in Red Square in Moscow.
Long time leader Dmitry Sotnikov became stuck in the mud after 200kms when his Kamaz drivetrain failed. 
Despite his best attempts The Russian was forced to retire.