New initiative allows the visually disabled to experience art in a whole new way
Comments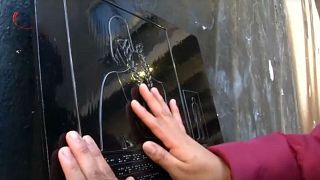 A new initiative in Chile's capital of Santiago allows visually disabled people to enjoy the city's bustling street art scene in a whole new way.
The "Hand on the Wall" project places a plaque with a raised reproduction with a description in Braille in front of the works so the visually disabled can feel and read about the artwork.
The multimedia approach also includes a phone app with an explanation about the piece.
Pamela Aquino, 27, said the new initiative has allowed her to experience the city's art in a way that was unthinkable because of her low vision.
"This, to me, opens a new world to me, one which I didn't know and had been isolated from. To be able to touch and feel what is on the mural! I couldn't do that before but now when I touch it, it is like it is inviting me to know so much. It was very emotional for me," she said.
The project was started by the Mu.Cho Association for Inclusive Culture, with the collaboration of the Museum of Visual Arts.
The publicly-funded initiative was initially intended to make artwork accessible to blind people but organisers insist the approach can be used by any person, disabled or not, to broaden how they interact with the works.
According to Chile's Ministry of Social Development, 11.9% of the country's adult population has a severe eyesight disability, which cannot be corrected with glasses.