All change: Russia's odd train time custom finally hits the buffers
Comments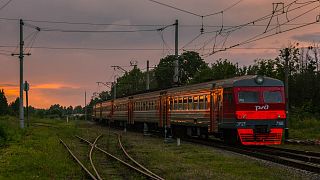 Europe's intrepid train travellers were handed a boost after Russia announced it was calling time on a confusing custom at its stations.
Destination boards, station clocks and train announcements across the country's multiple time zones have historically been in only Moscow time.
It meant if you were in the Pacific city of Vladivostok, situated 6,400 kilometres from the Russian capital and seven hours ahead, the train would still be announced according to the clocks in Moscow.
But the practice hit the buffers on Wednesday when the state-owned Russian Railway monopoly announced a new way of working.
Trains will be shown, from August 1, in both Moscow and local time in a bid to "improve the quality of service for passengers".
The custom of working only in Moscow time was introduced during the Soviet era so that passengers didn't have to keep changing their watches as they travelled across multiple time zones.
But it was confusing for passengers who were not familiar with the practice or what the time in Moscow was.
It also meant passengers buying tickets for a different date than they were expecting.
There are currently 11 time zones in Russia, from Kaliningrad Oblast, a Russian exclave on the Baltic in the west, to Kamchatka Krai on the Pacific coast.