This university professor needs four months wages to repair his shoes
Comments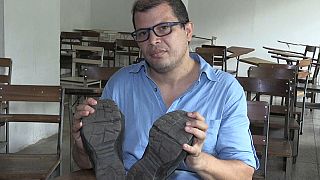 Copyright

Agence France Presse
Sometimes it takes a personal story to put in perspective a country's wider economic woes. That is what appears to have happened in Venezuela after university professor Jose Ibarra hit over his financial predicament.
His tweet that claimed it would take four months of his salary to afford to fix his shoes quickly went viral.
It showed a picture of the professor's shoes and read:
"I'm not embarrassed to say it: it's with these shoes that I go to the Central University of Venezuela (UCV) every day to teach. My salary as a university professor is not enough to change the sole of my shoes."
His tweet has had more than 9,000 retweets and more than 5,000 likes at the time of writing.
In a country where the IMF projects an inflation of 1,000,000%, a cobbler told the professor he would need 20 million bolivares to get new soles. His monthly salary is 5.9 million bolivares — the equivalent of €1.45.
"We've had to make changes to our life," Ibarra told Euronews, adding that when he started working, he was able to buy a house with his old salary.
Not being able to afford to change the soles of his shoes is a frustrating situation for a person with four university titles and a PhD in public health on the way.
"Buying new shoes is impossible, My salary doesn't allow me to buy clothes, not even food," said the professor who can barely buy a kilo of meat nowadays.
By sharing the picture of his old shoes, Ibarra was hoping to show the rest of the world how a university professor lives in Venezuela today.
Thanks to the power of social media, Ibarra has received various pairs of old and new shoes, clothes, money, and hundreds of support messages since the publication of his tweet.
He has since created the "Shoes for Dignity" movement to help other people in a similar predicament.
"Professors have a lot of dignity and that's why we put in a lot of effort so that our students can get a high-quality education every day," he said.
Ibarra will donate the money he's received to "professors that need it to buy food," adding that "many of them have fainted because they don't eat enough."
Three weeks ago, university professors started striking for higher pay, according to Ibarra.
The IMF has compared Venezuela's current situation to Germany's back in 1923 and Zimbabwe's in 2000.
It indicated that Venezuela's economy will decrease by 18% in 2018 and 5% in 2019 — three percentage points more and one less than April's projection.
According to a study by the main universities in the country, including UCV, poverty in Venezuela affected 87% of the total population in 2017. And while many Venezuelans, including university professors, have left the country in search of a better life, Ibarra has decided to stay because "a lot of things can still be done for the country."