Europe briefing: Five stories you need to know about today
Comments
By Euronews & Reuters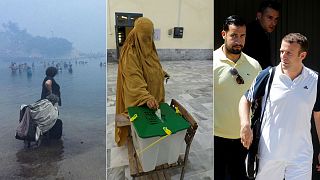 1. Pakistan election
More than 100 million people are expected to cast their vote on Wednesday, in Pakistan's general election.
Cricket legend-turned-politician Imran Khan is expected to win the ballot and become the next prime minister, though his ascendency has drawn criticism with opponents saying the country's powerful military influenced the ballot by censoring coverage of Khan's rivals.
The day was also marred by violence after a blast ripped through the northwestern town of Quetta, killing at last 20 people. The so-called Islamic State has claimed responsibility for the attack which occured near a polling station.
2. Greece in mourning
The death toll caused by devastating wildfires in Greece rose to 79 on Wednesday morning, as the country embarked on three days of mourning for the victims.
"Greece is going through an unspeakable tragedy," Prime Minister Alexis Tsipras said as in a televised address on Tuesday evening.
The disaster is the worst one since 2007, when 70 people died from fires in the southern Peloponnese region.
3. Macron speaks on 'Benallagate'
French President Emmanuel Macron finally addressed the ongoing scandal over his close security aide filmed beating a protester on May Day.
Despite video evidence of Alexandre Benalla's action during the demonstration submitted to police as early as May 2, Benalla continued to work for the president, leading some to accuse Macron of attempting to cover up the event.
The scandal has already derailed the parliamentary agenda and an inquiry has been launched.
Speaking to parliamentarians from his En Marche! party, Macron said on Tuesday: "I alone bear responsibility."
"They can come and get me. I answer to the French people," he added.
Macron has yet to make a public statement on the matter.
4. Juncker vs Trump
EU Commission President Jean-Claude Juncker will meet Donald Trump in Washington on Wednesday to discuss trade.
The US has imposed tariffs on European steel and aluminum and threatens to slap additional duties on European cars.
Several European politicians, including Germany's Foreign Minister Heiko Maas, have called on EU member states to stand united and not to buckle to US threats.
Trump meanwhile, suggested on Twitter that the EU and US should "drop all Tariffs, Barriers and Subsidies."
5. Novichok contained in perfume bottle
Charlie Rowley, a British man poisoned with Novichok, revealed that the nerve agent had been held in what looked like a perfume bottle.
He explained that his partner, Dawn Sturgess, sprayed some of the agent on her wrist after he found the box. Sturgess died in hospital.
Rowley spent three weeks in hospital after being exposed to the nerve agent and was released on July 20.
As it happened updates for Wednesday, July 25.
This is how we covered key developments this morning: