Afghanistan: fighting terrorism through education
Comments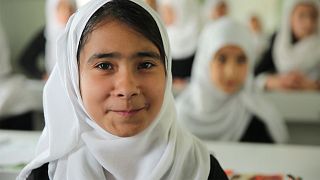 Afghanistan is a country where no segment of government and society is immune from suicide attacks. Education and the media are no exception. About 60 percent of the population is illiterate and nearly 4,000,000 Afghan children are deprived of education. I asked the Afghan Minister of Education whether terrorism would be defeated if illiteracy were eradicated? We followed Mirwais Balkhi while he was visiting schools in Kabul; a minister who is determined to fight extremism and terrorism with education, book and pen.
On January 27, the Afghan capital witnessed a deadly suicide attack unlike any other. The Taliban filled an ambulance with explosives. They detonated it in Chaharrahi Sedarat killing 103 and wounding 235.
Malala High School, an all-girls faculty lies 10 metres from where the ambulance attack unfolded. I accompany the minister while he visits the school.
There, the school Principal Shafigha Ahmadi Vardak presented him with fragments of the blown-up vehicle. Her account of that day, along with photos and videos she took in the immediate aftermath, was shocking and disturbing.
Shafigha Ahmadi Vardak: "We just collected the big piece of the blown-up ambulance ... I saw a hand that had been cut off, but it was still moving. Even now when it is stormy, there are trees on the other side of the building from where hats, boots, even chins and pieces of hearts, livers fall to the ground."
Mirwais Balkhi, Afghanistan Minister of Education: "You see, the Afghan people came back the next day, even though they are afraid they go back to work." 
Masoud: But what do we do about the Taliban? Do we make peace, or fight violence with violence?
**Mirwais Balkhi:**"Some government elements in our region are exploiting uneducated people. They are responsible for the murder and bloodshed." the minister replies indirectly.
Masoud: Do you think that boosting literacy could put an end to suicide attacks in the country?
Mirwais Balkhi: "100 percent, 100 percent." 
According to a UN report released last year, 923 children were killed and 2,589 wounded in 2016, alone, while on their way to and from school in Afghanistan.
On "Bloody Saturday", Malala school was mercifully closed. It was a public holiday and so hundreds of students had been spared from serious injury.
Mirwais Balkhi: "Compared to boys, the education of girls is a serious problem. Girls want to finish high school and go to university. But we don't have enough schools in every part of the country."
Masoud: "How, amid such instability and insecurity, can we expect students to study with peace of mind?" 
Mirwais Balkhi: "Frankly, the people of Afghanistan are very brave, despite the different kinds of threats we face in this country, a thirst for education [among Afghans] is very much there."
Masoud: Why are you accompanied by armed bodyguards?.
Mirwais Balkhi: "What I do, and what Mrs Vardak does is no different to what a soldier does on the front line against the enemy. And, warmongers are always looking for ways to eliminate me, thus, I have no choice but to surround myself with youths [bodyguards] so we can fight ignorance."
On April 30, four days after I interviewed the minister of education another suicide attack targeted journalists, killing nine of them in Shah Darak district of Kabul. The first bomber arrived on a motorcycle. Then, as journalists rushed to the scene, a second bomber detonated his device.
I leave Afghanistan with this fundamental question in mind. will media and education transform Afghanistan into a peaceful country?!