North Korea's ex-poet laureate has a human-rights message for Trump
Comments
By Alexander Smith with NBC News World News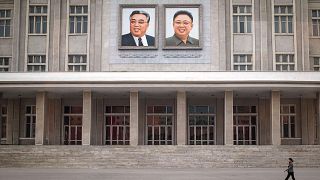 -
A former senior North Korean official has warned President Donald Trump he cannot just focus on denuclearization but must also deal with Kim Jong Un's human-rights abuses if there is any hope of achieving peace and stability.
Jang Jin Sung served as poet laureate to Kim's late father, Kim Jong Il. He describes his former role as a propaganda chief for the regime as a "psychological warfare officer."
Jang spoke with NBC News this week after a report highlighted his homeland's status as the world's worst perpetrator of "modern slavery."
The North Korean government is well known for its atrocities, which the United Nations and others have said are just as bad if not worse than those committed by the Nazis.
And yet, at their historic summit last month, Trump repeatedly praised Kim as "tough" and made little mention of his regime's dire human-rights record.
Instead the meeting produced a vague and much-criticized agreement that pledged to work toward "the complete denuclearization of the Korean Peninsula."
Jang, 45, said this was a mistake.
"When people try to separate the nuclear issue from the human-rights issue, it's not really possible because these things are both working toward the same cause. They both uphold a political system that prioritizes Kim in every aspect, " he said when asked about the summit.
The Kim dynasty developed its nuclear program as an insurance policy against regime change by the U.S. and its allies: attack us and we'll annihilate Seoul, Tokyo or potentially even San Francisco.
For Jang, North Korea's human-rights abuses should be seen in the same way, a means to keep the population down and prevent any challenge domestically.
"This is a system that needs bombs, this is a system that inherently and essentially commits crimes against humanity," he said. "The only real, permanent solution, whether that's on nuclear issues or human rights, is one that deals that with both. Unless you have political transformation, you won't make any genuine progress on these issues."
The Trump administration and many Americans might feel that eliminating the threat of a nuclear strike on the U.S. is a higher priority than liberating the people in faraway North Korea.
But focusing on denuclearization while failing to address North Korea's harsh dictatorship could have disastrous knock-on effects in the future, according to experts like Elliott Abrams, who served as deputy national security adviser to President George W. Bush.
"As long as there is brutal one-man rule, the only thing needed to destroy any progress that has been made [in the nuclear talks] is a whim by that man," Abrams wrote last month for the Council on Foreign Relations, where he is a senior fellow.
Jang's job in North Korea involved posing as a South Korean poet and writing glorifying odes to the Kims. These were then published in a North Korean newspaper, making the population believe that they were the envy of their capitalist neighbors to the south.
He defected in 2004 after he read South Korean books, which he had access to because of his job, and realized the truth about his country. He is now a bestselling author living in South Korea.
He is also a panelist for the Global Slavery Index, which released a report Wednesday saying North Korea was the worst country in the world for "modern slavery."
Of an estimated 40 million people held in modern slavery worldwide, at least 2.6 million are in North Korea — one in ten members of the population.
Andrew Forrest, founder of the Walk Free Foundation, the human rights group that compiled the study, said this was "a very conservative number" that included only people who met the strict definition of slavery.
This is anyone remunerated only enough to exist and not allowed to leave their work.
While they may not meet this criteria, the rest of the population are by no means free, living as they do in a country that controls almost every aspect of public life.
Much of the international focus has been on the most extreme of North Korea's crimes: upward of 80,000 people detained in labor camps where murder, rape and torture are rife; public executions for trivial crimes; and the death of American student Otto Warmbier.
But Jang said it was also important to highlight the "rule-by-terror" that almost all of the population, outside the elite, are subjected to every day.
"The whole population is not just under a physical form of dictatorship, it's also an emotional or a psychological form of dictatorship," he said.
Wednesday's report highlighted how children are forced to do hard labor, with their payment given straight to their school or the central government.
Adults are made to work what are known as "battles" — shifts of 70 to 100 days straight without a day off, it said. Refusal means a cut in rations and most wages remain unpaid.
"It is the most oppressive regime in the world," Forrest said.