Eight views on the race debate raging over France's World Cup winners
Comments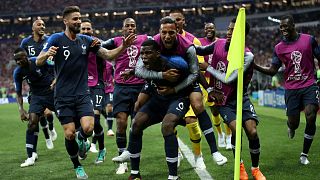 No sooner had France's hangover from its World Cup-winning celebrations cleared than another headache reared its head.
Thought to have emerged from Italian social media, questions began to be asked about the ethnic backgrounds of Didier Deschamps' triumphant team.
The suggestion or implication was that Africa had won the World Cup, not France, even though only one of the team that started the final — Samuel Umtiti who came to Lyon as a toddler — was born on the continent.
At Euronews we try and give you all views of a debate, so here is a collection of opinions on this divisive subject.
Trevor Noah
"Africa won the World Cup," said Trevor Noah, the South African host of The Daily Show, helping to bring the debate stateside.
"I get it, they have to say it's the French team. But look at those guys. You don't get that tan by hanging out in the south of France, my friends."
Noah later clarified his comments after criticism.
"What I find weird is people say 'they're not African, they're French. I'm like: 'why can't they be both?" he asked.
"Why is that duality is only afforded to a select group of people, why can't they be African too? In order to be French you have to erase everything that is African?
Gerard Araud
"France is indeed a cosmopolitan country, but every citizen is part of the French identity and together they belong to the nation of France," said France's ambassador to the US, Gerard Araud, responding to Noah.
"Unlike in the USA, France does not refer to its citizens based on their race, religion or origin. To us, there is no hyphenated identity, roots are an individual reality.
"By calling them an African team, it seems you are denying their Frenchness. This, even in jest, legitimises the ideology which claims whiteness as the only definition of being French."
Nicolas Maduro
"Frances's team won, although they looked like an African team so it was Africa that really won," said Venezuela's president Nicolas Maduro.
"Croatia is also a great team but France with its African players, the sons of Africans, Africans who migrated to France, were able to get the World Cup title."
Corriere Della Sera
"A team [France] full of African champions mixed with very good white players, and one of only white [players] at the centre of three great schools of football thought: German, Slavic and Italian," wrote the Italian newspaper Corriere Della Sera ahead of the France-Croatia final.
Barack Obama
Former US President Barack Obama, in Johannesburg to pay tribute to Nelson Mandela, got involved in the issue as he was talking about how important it was to embrace diversity because it had "practical benefits".
"If you doubt that, just ask the French football team that just won the World Cup. Because not all of those folks look like Gauls to me. But they're French, they're French."
Benjamin Mendy
Benjamin Mendy, who was in France's World Cup squad, underlined his view on the subject in a response to a tweet from the sports website Sporf that put flags of each player's origins next to members of France's squad.
The defender, who plays for Manchester City, copied the list but replaced each flag with a French one.
Laura Flessel-Colovic
"Let me tell you the French team won and it's one unified, diverse French team, happy to wear the jersey and sing the national anthem, to spread positive values to the young, to remind the older generation about them," Laura Flessel-Colovic, France's minister of sport, told Euronews in an interview.
Evan Fournier
"Stop it with this 'Africa won the World Cup for France' nonsense," said French basketball player Evan Fournier. "Is it Africa winning when the USA win gold medals in the Olympics? Is it Europe winning when South Africa win in rugby? We are all French, deal with it."