Burial of an Egyptian great? Mystery of newly discovered tomb now solved
Comments
By Belle Donati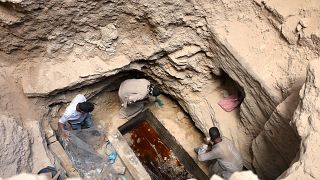 Copyright

REUTERS/Mohamed Abd El Ghany
The mystery surrounding a sarcophagus discovered in Egypt just a few weeks ago has finally been solved.
Three metres long and thought to be 2,000 years old, the tomb was found next to a giant alabaster head. And so the mystery deepened, Euronews asked viewers their thoughts on what was inside the sarcophagus. One YouTube user thought it was Alexander the Great while another thought it could be the old flame of Cleopatra, Marc Antony. 
'Tam One' said: "It's Mark Antony not Alexander the Great. Mark Antony died in Alexandria around the same time as the dating of this sarcophagus."
Some of you even suggested the eldritch box should not be opened, for fear it contained a terrible curse.
Archaeologists in Alexandria opened the tomb on Thursday, and the results are likely to disappoint: three skeletons floating in dirty water, according to Egypt's Ministry of Antiquities. The water is also thought to be from a sewage trench.
The bodies are probably those of warriors, rather than Alexander the Great. And one of them appears to have a wound that's a result of being hit by an arrow.
But before the lid is closed on this discovery, the skeletons will be sent to the National Museum of Alexandria. While the grand reveal may not have been what many had hoped, let's remember that an unopened sarcophagus is still an incredibly rare find.
What do you think of the new discovery? Let us know on social media by using our hashtag #TheCube.