Russian Ministry of Defence unveils new high-tech weaponry
Comments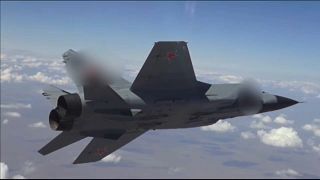 The Russian Ministry of Defence has unveiled new video footage of what is claimed to be the world's most technologically-advanced strategic weaponry in existence.
President Putin originally unveiled the arsenal during his state of the nation address in Moscow back in March, calling it a response to the United States' withdrawal from the Anti-Ballistic Missile Treaty and its deployment of missiles to borders in close proximity to Russia.
One of the features of the arsenal is an intercontinental missile called Sarmat. As enumerated by Putin in his speech, Sarmat weighs over 200 tonnes, boasts a short boost phase--making it hard to intercept, is equipped with nuclear warheads, has practically no range restrictions, and can attack targets via both the North and South poles.
Russian teams have also devised a nuclear energy unit, Putin said, that can be installed inside Burevestnik, a missile that is "invincible" against all missile defence and counter-air defence systems. This low-flying global-range cruise missile, like Sarmat, is said to have a practically unlimited range, unpredictable trajectory while maintaining manoeuvrability, and thus, the ability to bypass interception boundaries. It was launched and tested in 2017.
In his address, Putin boasted that "no other country has developed anything like this" and by the time they do, "our guys will have come up with something even better".
Another development is a submersible vehicle known as Poseidon. It is quiet, highly manoeuvrable, and, according to the Ministry of Defence, basically unstoppable by all defence systems. Its nuclear power unit, though smaller than that of modern underwater missiles, can still reach its maximum capacity 200 times faster, according to Putin's announcement.
Kinzhal, or "dagger," is a hypersonic air-launched missile that is said to be able to travel 10 times faster than the speed of sound. In flight, it retains its manoeuvrability and can deliver both nuclear and conventional warheads at a range of over 2,000 kilometres.
Avangard, a glider-missile complex, is capable of intercontinental flight at supersonic speeds of 20 times faster than sound, according to the Ministry of Defence. Its manoeuvring capabilities allegedly make it nearly invulnerable to any missile defence systems. It can also withstand extremely high temperatures, its surface reaching, but not being affected by, up to 2,000 degrees Celsius in flight.
The most cryptic technology developed in the set is Peresvet, a combat laser complex. Its functions remain undisclosed. Personnel at Mozhaysky Military Space Academy are undergoing training with the technology.
In his speech, Putin highlighted that Russia's efforts to strengthen its military security do not violate any current arms control agreements and that "Russia's growing military strength is not a threat to anyone; we have never had any plans to use this potential for offensive, let alone aggressive goals".
It remains unknown when test trials will be fully completed or when these weapons will become fully operational.