19 things we'll remember from World Cup 2018 in Russia
Comments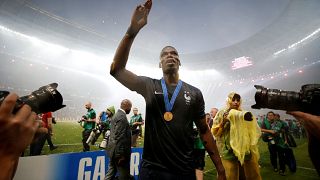 1) Macron dancing
The French president was extremely animated during his team's performance, as his host, Vladimir Putin watched impassively. At the final whistle, he did find time to offer a courteous commiseration to his Croatian counterpart Kolinda Grabar-Kitarovic.
2) VAR
It was billed as the World Cup of VAR, but like many of the players expected to star, the technology disappointed and was practically eliminated from the tournament after the group stages as referees reverted to their own instincts. Its reappearance in the final, will undoubted be remembered with bitterness by Croatian fans as it transformed what would have been a French corner into a penalty.
3) Russia surprise
In addition to avoiding much of the fan unrest or brutal policing predicted by some before the competition, Russia managed unexpected feats on the pitch. A quarter-final defeat on penalties to Croatia, as well as a hatful of goals gave the fans plenty to cheer.
4) Neymar on the floor
Rather than counting assists of goals, statisticians found themselves monitoring how many minutes the Brazilian forward spent on the turf, due to a combination of some rough treatment by defenders and his own apparent affinity for Russian grass. One photography expert even created a typeface out of Neymar's tumbles.
5) Germany out early
The World Cup winners curse once again ensured that the reigning champions failed to progress beyond the group stages. The image of Manuel Neuer wandering around on the half-way line as Song Heung-min tapped the ball into an empty net will live long in the memory.
6) Ronaldo misses penalty
Cristiano Ronaldo had a tournament to forget, epitomised by the spot kick saved by Iran's Ali Beiranvand that ensured his team were unable to beat their unfancied opponents. The only consolation for Ronaldo might be that Lionel Messi also had little to celebrate.
7) Hazard dribbling
The Belgium ace was virtually untackleable for the entire tournament, torturing defenders with his fast footwork. Unfortunately for him, the rest of his team failed to rise to the same level in the semi-final against France.
8) Varane heading the ball
There were many reasons that France finished the tournament as winners: the speed and skill of Kylian Mbappe, the athleticism of Hugo Lloris and the cool head of Antoine Griezmann. But perhaps their outstanding player was Rafael Varane who beat away almost everything thrown at him, repeatedly rising above the crowd.
9) Panama celebrating defeat
At 6-0 down against England, Pamana still never stopped enjoying their first world cup. And when captain Felipe Baloy found the net, their fans went wild.
10) The Viking clap
Another team enjoying their first time on the world's biggest sporting stage were Iceland and they brought with them their trademark resilience and tenacity as well as football's most fashionable celebration.
11) Belgium coming back against Japan
At two-nil down with 20 minutes left to play against Japan, it looked as though another of the pre-tournament favourites was facing a surprise exit. Until Belgium really turned on their football, culminating in a lightening last-gasp winner from Nacar Chadli.
12) Egypt's Pharoahs
Another star with a tournament to forget was Mohamed Salah. However, while their side struggled on the field, Egypt's fans were among the World Cup's best-dressed.
13) Senegal dancing
Fans and players alike brought their dancing shoes to Russia, with beautifully choreographed performances that weren't quite matched by footballing success. 
14) Women in Iran's stadiums
For the first time, female fans were allowed to watch a match alongside men at Tehran's Azadi stadium, even if the game was in fact taking place a long way away.
15) Europe's World Cup
Ten of the sixteen teams reaching the knockout stages were European as were all four semi-finalists. No African teams made it out of their group.
16) Kylian Mbappe
Becoming the first teenager since Pele to score a brace in the final stages of a World Cup put the PSG striker firmly on the world map and he reinstated his position by emulating the Brazilian legend with a World Cup final goal.
17) Gareth Southgate's waistcoat
As England manager, Gareth Southgate managed a number of surprising feats, not least taking his team to a World Cup semi-final. His impact was not only on the footballing side, however, as he also managed to bring the third piece of three-piece suits back into fashion.
18) Polite fans
As well as avoiding ugly clashes predicted by some media commentators ahead of the World Cup, some football fans also managed to improve their image on the global stage by cleaning up the stadium after their games.
19) Set pieces
The tournament saw more than 70 goals from dead-ball situations, a record. It also saw more own goals, 12, than any other World Cup.