Campaigners accuse Iceland of slaughtering endangered blue whale
Comments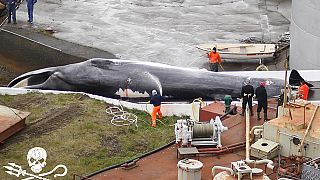 -
Whalers in Iceland have been accused of hunting and slaughtering an endangered blue whale.
Campaigners from the marine conservation charity Sea Shepherd have released pictures which they say show Iceland's only whaling company, Hvalur hf, butchering the sea creature.
The blue whale, the largest animal on earth, has been considered endangered since 1986. According to the International Union for the Conservation of Nature, the total population of the marine mammal has decreased by between 70% to 90% over the past three generations due to commercial whaling.
Kristjan Loftsson, owner of Hvalur hf, denies that the animal the company slaughtered is a blue whale, arguing instead that it is a hybrid between a fin — also an endangered species — and a blue whale.
Dr Phillip Clapham from the US National Oceanic and Atmospheric Administration said in a statement that while the possibility that it is a hybrid can't be ruled out, there is little to suggest that it is not a blue whale.
"From the photos, it has all the characteristics of a blue whale; given that — notably the coloration pattern — there is almost no possibility that an experienced observer would have misidentified it as anything else at sea," he said.
Iceland's response
Campaigners have asked that a DNA test be done to verify from what species the whale is.
Iceland's Minister for Agriculture and Fisheries, Kristjan Thor Juliusson, said in a statement published by the BBC that "while initial information suggests that the animal in question was not a blue whale, we take these reports seriously and the relevant authorities are investigating this matter with all urgency.
He went on to say that while Icelandic authorities could not confirm the species, the the directorate of fisheries in Iceland concurred with Loftsson's suggestion that the whale was likely a fin whale and blue whale hybrid.
Like Japan, Iceland launched a "scientific whaling programme" after the ban on commercial whaling introduced in 1986 by the International Whaling Commission (ICW).
The country resumed commercial whaling in 2006, becoming the second country to do so after Norway, and sets a yearly killing quota. Japan also slaughters whales but continues to argue it is for scientific purposes.
This year Icelandic authorities set a quota of 191 fin whales and hunting season opened on June 10.
Marine Conservation group Hard to Port has been keeping a tally of the killings so far this season and said the latest kill is the 22nd so far.