US Surpreme Court has a new conservative Judge
Comments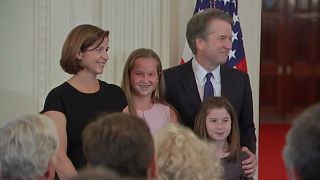 US President Donald Trump has announced his nominee for the country's Supreme Court to replace retiring Justice Anthony Kennedy.
The man he has chosen is conservative federal appeals court Judge Brett Kavanaugh.
In making his choice Trump entrenches conservative control of the court for decades to come.
Judge Brett Kavanaugh says, "My judicial philosophy is straight forward. A judge must be independent he must interpret the law not make the law. A judge must interpret statutes as written and a judge must interpret the constitution as written."
Even before the announcement protesters had gathered outside the Supreme Court
None of Trump's choices were popular with liberal supporters.
They believe his nominee will join a majority in reversing Roe v Wade, the 1973 decision legalising abortion throughout the US.