Pompeo, North Korean official express need to 'clarify' their positions
Comments
By Abigail Williams with NBC News World News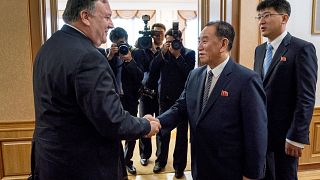 -
Secretary of State Mike Pompeo starts his second day in Pyongyang, Saturday, looking to make progress in tense negotiations between the U.S. and North Korea to dismantle the country's nuclear program.
After meeting with his North Korean counterpart for almost 3 hours Friday, followed by a lengthy dinner, Pompeo and North Korea's former spy chief, Vice Chairman Kim Yong Chol, were at it again Saturday morning.
In an exchange in front of reporters before the meeting, Kim asked Pompeo if he had slept well and the U.S. Secretary said he had.
"But we did have very serious discussion on very important matters yesterday," said Kim via an interpreter. "So thinking about those discussions you might have not slept well last night."
"Director Kim I slept just fine," Secretary Pompeo said. "We did have a good set of conversations yesterday, I appreciate that and I look forward to our continued conversations today."
State Department Spokesperson Heather Nauert told reporters Saturday that Pompeo and Kim had discussed denuclearization issues along with the repatriation of American remains from the Korean War, adding, "we expect them to live up to their commitments."
The two also agreed to the establishment of working groups led on the U.S. side by U.S. Ambassador to the Philippines, Sung Kim. Amb. Kim, who previously held the position of Special Envoy for North Korea Policy, met with his North Korean counterparts Sunday in Panmunjom in the Demilitarized Zone between North and South Korea shortly before Pompeo's trip.
According to Nauert, these groups will be getting into the "nitty gritty stuff," such as planning and policy implementation and ultimately the verification of efforts to achieve denuclearization.
Related
But what "complete denuclearization" looks like is not yet clear, despite both sides agreeing to work towards it in a joint statement following June's summit between President Trump and Kim Jong Un.
Vice Chairman Kim Yong Chol noted Saturday that "the world is paying close attention to our meeting."
"We consider this very important too since it is the first senior level face-to-face meeting since the summit between our two leaders," said Secretary Pompeo in response. "President Trump is committed to a brighter future for North Korea. So the work that we do the path toward complete denuclearization building a relationship between our two countries is vital for a brighter North Korea and the success that our two presidents demand of us."
"Of course it is important," Vice Chairman Kim told the U.S. Secretary. "There are things that I have to clarify."
"There are things that I have to clarify as well," said Pompeo.
The State Department has pushed back on reports that the U.S. is softening its position with North Korea, the spokesperson telling reporters Friday "nothing could be further from the truth." But previous demands by the U.S. for "complete, verifiable and irreversible denuclearization," have made way for the phrase "final, fully verified denuclearization," as used in a tweet by Pompeo, Friday.
"Our expectation is exactly what the President and Kim Jong Un agreed to and the Singapore Summit, and that's the denuclearization of North Korea," Nauert said Saturday. "There's a lot of hard work that's left to be done. We never thought this was going to be easy, that's why the consultations continue."
Secretary Pompeo is expected to continue meeting with his North Korean counterpart throughout Saturday. It is not yet clear whether Pompeo will meet with North Korea's leader Kim Jong Un before departing Pyongyang for Tokyo where he is expected to brief his Japanese and South Korean counterparts.