EU says US-Chinese trade tariffs "bad for world trade"
Comments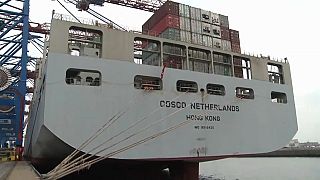 After their tit-for-tat trade tariffs came into effect on Friday China accused the US of triggering the "largest-scale trade war."
But the EU gave a more muted reaction.
Trade commissioner Cecilia Malmstrom tweeted that it's a worrying development and bad for world trade.
And France's foreign minister backed away from labelling it a trade war.
"We have to talk this through, we have to discuss this. There is a place to do it, which is the World Trade Organisation, and today Trump breaks away from this logic. It's a dangerous game. This is not yet a trade war but it looks a lot like it," Jean-Yves Le Drian said.
Many analysts fear the global economy will now suffer somewhat, the question is by how much.
The WTO's Director General Roberto Azevedo said in a statement on Friday that "this continued escalation poses a serious threat to growth and recovery in all countries."