Don't give up hope, freed Chilean miner tells Thai soccer team
Comments
By Elizabeth Chuck and Associated Press with NBC News World News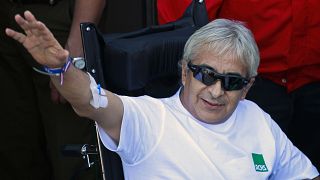 Copyright

Dario Lopez-Mills

-
One of the Chilean miners who miraculously survived 10 weeks underground in 2010 has advice for the Thai soccer team currently trapped in a waterlogged cave: Don't give up hope.
Omar Reygadas and 32 other miners were digging in northern Chile when the mine suddenly caved in, trapping them about 2,300 feet below ground. Rescue efforts to reach the miners were arduous, and when all 33 finally emerged alive 69 days later, their survival made headlines around the world.
In northern Thailand, rescuers are working around-the-clock to prepare for a complex mission to shuttle the 12 boys and a 25-year-old assistant soccer coach, who have been trapped in the flooded cave for 11 days now, to safety.
All are in good health and are getting food and medicine delivered to the cave thanks to Thai navy SEALS, medics and divers. But those working to save them cannot say yet when or how, exactly, the boys and their coach will be extracted.
Having lived through a similar ordeal, Reygadas had a message for the boys.
"They should think only about leaving and reuniting with their families."
"They should think only about leaving and reuniting with their families," Reygadas told the Associated Press on Tuesday, adding that their coach will be key to keeping them motivated.
The boys, who are ages 11 through 16, have to help each other, he said.
"It's terrible for them — they're little — but I believe that boys with a lot of strength are going to manage to be whole when they get out," Reygadas said.
He recalled times when he and his fellow miners doubted they would be rescued. Faith, prayer and humor kept them sane, he said.
News
"They shouldn't be ashamed to be scared," he said of the boys. "Because we were scared, too. Our tears also ran. Even as adult men, we cried."
The miners, who were trapped below Chile's Atacama desert, eventually were saved when a specially built capsule was lowered down a drilled shaft and raised them to the surface one by one.
In the case of the Thai soccer team, a rescue is a race against time.
Thai SEALS posted on Wednesday morning photos on Facebook of rescuers working in chest-deep water in the cave, adding that they are pumping water as "fast as possible" as they prep to bring out the stranded group, Reuters reported.
And monsoon rains, due to hit in the coming days, could push water levels dangerously higher.
The boys do not know how to swim. Thai officials, while eager to pull them out, say they do not want to risk further endangering the team by rushing an evacuation.
"We need to be 100 percent confident," Narongsak Osatanakorn, the province's governor, said. "If there is a risk, we will not move them out."
Despite their ordeal, the boys seem to be in good spirits.
In the videos released on Wednesday morning by the navy SEALS, the boys, may wrapped in foil blankets, introduce themselves by name and say that they are in good health. A SEAL is seen treating minor cuts on the boys' feet in them. Several boys are laughing as the SEALs joke around with them.
The boys and their coach disappeared after they went exploring the Tham Luang Nang Non cave in northern Chiang Rai province after a soccer game on June 23. Heavy rains flooded the cave, trapping them. They were found by rescue divers Monday night.