European migrant rescue NGOs stuck on dry land amid 'political crackdown'
Comments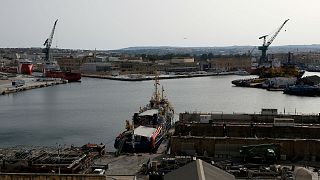 Copyright

REUTERS/Darrin Zammit Lupi/File Photo
European NGOs claim they are being prevented from rescuing migrants at sea amid a "political crackdown" that has left their vessels stuck on dry land.
German charity Sea Watch told Euronews that its search and rescue plane had been denied permission to continue operating from Malta, while its ship Sea Watch 3 was being banned from leaving a Maltese port.
In an email to Sea Watch seen by Euronews, DC Aviation Dispatch — the interface between the NGO and Maltese Authorities — quoted officials as saying that no permit would be issued for any search and rescue operation "unless this is being done on behalf of Malta or on request by a neighbouring country".
Sea Watch 3 requested to leave a port after undergoing maintenance earlier this week but the port authority refused, saying that the vessel's status was under review.
Sea Watch spokesperson Ruben Neugebauer told Euronews the NGO believed the decisions were part of a "political crackdown" on civil sea rescue, and compared it to stopping an ambulance trying to reach a road traffic accident.
"We [have been] conducting search and rescue operations from Maltese ports and airports for more than two years. We never had problems getting into operations. This has changed now with the crackdown on civil sea rescue," he said.
"We did not have such problems before — this is clearly a political problem. There is a crackdown on sea rescue."
Asked about the situation with Sea Watch, Malta's Transport Centre said the country's search and rescue authority "does not request any surveillance missions by third parties to be conducted within its Search and Rescue Region and Flight Information Region".
The Ministry for Home Affairs and National Security did not respond to requests for comment.
Neugebauer said Sea Watch would now do everything it could to get operational again.
"We will challenge the Maltese Authorities with legal steps for sure and we will see which other possibilities we will find to come back to operations as soon as possible — because people are dying right now."
Another humanitarian ship, Lifeline, was detained in Malta last week after the country for the first time in years opened its port to a large number of migrants.
Lifeline's captain attended a court hearing on Monday in which the prosecutor said the ship was not properly registered.
The groups operating both ships deny any wrongdoing.
Meanwhile, the Aquarius rescue vessel remains docked in the French city of Marseille.
"Given the recent political developments preventing #NGO vessels to rescue lives at sea, we are forced to take some time to assess the situation before going back at sea as soon as possible," SOS Méditerranée said on Twitter.
Is this legal?
Dr Violeta Moreno-Lax, a migration law expert and senior lecturer at Queen Mary University of London, told Euronews that Malta's policy towards Sea Watch and other migrant vessels "fails to conform with international law and specifically with the regime of innocent passage provided for in the UN Convention on the Law of the Sea (UNCLOS)," which the country is party to.
UNCLOS states that ships have the right of innocent passage through the waters of any coastal state.
Passage is defined in UNCLOS as navigation through a territorial sea for purposes including heading to and from a port facility.
This is "exactly the situation of search and rescue NGOs willing to operate from Maltese ports," Moreno-Lax said.
She acknowledged that states can take measures to prevent "non-innocent" passage, which can include the disembarkation of people violating the immigration laws of the coastal states.
But, she noted, passage cannot be impeded in cases where it is necessary to render assistance.
UNCLOS also states that protective measures must be "non-discriminatory 'in form or in fact' among foreign ships".
"Any requirements imposed in order to ensure safety of navigation and the proper regulation of maritime traffic have to apply across the board to all ships, whatever their flag and the lawful activity in which they are engaged," Moreno-Lax explained.