How to score the perfect penalty — according to Stephen Hawking
Comments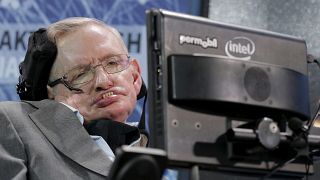 The nail-biting penalty shoot-outs have arrived at the World Cup. The winners of both games this past weekend — Russia and Croatia — won by penalties, leaving Spain and Denmark out of the competition.
Back in 2014, renowned physicist Stephen Hawking, made famous for his black hole theory and book A Brief History of Time, came up with a theory about how to score the perfect penalty at the request of British bookmaker Paddy Power.
**Read More | Penalty shootouts are unfair. Here's how they could be fairer. **
Hawking, who died in March 2018, analysed data from every tournament since 1966 up to that point and 204 penalty shots taken in penalty shoot-outs to draw his conclusions.
Here's Hawking's formula for scoring the perfect penalty
Velocity is key
Give the ball "some welly" but "velocity is nothing without placement," said Hawking.
The scientist recommends placing the ball in the top corners of the net for the best chance of success.
In the past, 84% of penalties aimed at a top corner where scored, according to Hawking's study.
"If only I had whispered this in Chris Waddle's ear before he sent the ball into orbit in 1990," he added.
Strikers are better
According to Hawking, strikers are more likely to score (81%) than midfielders and defenders.
No advantage in kicking with right or left foot
But it is better to kick with the side foot rather than laces and you are 10% more likely to score, said Hawking,
Bald and fair-haired players are more likely to score
Hawking wasn't able to provide a scientific explanation for this one. But his analysis showed that blonde or bald players succeed more at penalty kicks than dark hair ones.
"The reason for this is unclear, this will remain one of the greatest mysteries of science."
Listen to Hawking present his theory here: