Trump-Putin summit to be held in Helsinki
Comments
By Alexander Smith and Kristen Welker with NBC News World News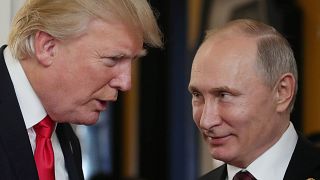 -
President Donald Trump and Russia's Vladimir Putin will hold their first dedicated summit in the Finnish capital of Helsinki on July 16, the White House announced Thursday.
The meeting will be the first between the two men not on the sidelines of a larger gathering of world leaders.
"The two leaders will discuss relations between the United States and Russia and a range of national security issues," a White House statement said.
The announcement drew intense interest given special counsel Robert Mueller's investigation into the Kremlin's election interference and the Trump campaign's alleged ties to Russia.
Before details of the meeting were announced Thursday the president tweeted about the investigation, writing that "Russia continues to say they had nothing to do with Meddling in our Election!"
The announcement follows meetings in Moscow this week between Putin and Trump's national security adviser, John Bolton.
Trump told reporters Wednesday that topics of discussion during his one-on-one with the Russian leader would include Syria and Ukraine.
He did not answer a question about whether he would raise the issue of Russian election meddling.
Trump has met Putin in-person twice — once at the Group of 20 nations summit in Germany last July and later at the Asia-Pacific summit in Vietnam last November.
Trump recently proposed that Russia be reinstated in the Group of Seven nations — which current membership includes the U.S., the U.K., France, Japan, Germany, Italy and Canada — after it was expelled in 2014 for annexing Crimea.