This is how the internet reacted to Germany's crushing World Cup loss
Comments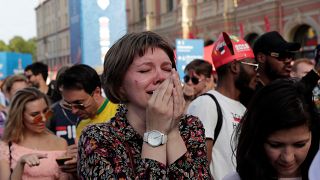 Copyright

REUTERS/Henry Romero
Reigning World Cup champions Germany are out of the World Cup following a surprise defeat by South Korea. Euronews looks at how German fans took the news on social media. 
#ZSMNN was trending, and in German, it is not only a common hashtag for the team, but also means "together".
Humour
Some fans tried to take the bad news with a dash of humour:
"No honking, no #corsos, no cheering? I assume that #KORGER game has been postponed! Is there information out already when the game will be held instead?"
German team reacts
The German team's official account just said "speechless." In a separate Tweet, the team also congratulated their rivals in getting through to the next round.
Getting political
Because the German government is in somewhat of a crisis itself, a well-known blogger suggested "snap elections" after the World Cup defeat.
Hero of the night
A lot of people say Mats Hummels is the hero of the evening for being very honest in front of the cameras after the loss saying: "I think the last convincing match we played was in the autumn of 2017. It's been a while."
Utter dispair
"I don't know what's been and is going on with this crew. No order, no ideas, no plan, just no team. I can't believe it. What a WC... Too bad it's over for Germany." #KORGER #WM2018"
Silver linings
"Lets look at the positive note: We are still World Cup winner for another 18 days."
Acceptance
"Sometimes you just have to say: We didn't play well."
"Sure, hurts brutally. But on a sober note, the German World Cup final is unfortunately completely deserved. 5 weak half times and only 1 good against really feasible opponents. It wasn't just nothing. Starts with the squad."
The memes
"Look Mario, these are our tickets home"
"South korea isn't kicked Germany out of the world cup. Germany is kicked Germany out of the world cup."
Someone shared a picture of fan-gear on sale saying: "it started already."
And people were left wondering if the coach will resign:
"By the way, I don't think #Löw will stop as national coach. He's just renewed his contract for a long time, and no one at the #DFB will fire him. He is more likely to be given the task of managing the re/building of the national team. #KORGER #WM2018"