Scepticism and optimism greets news of Greek debt deal
Comments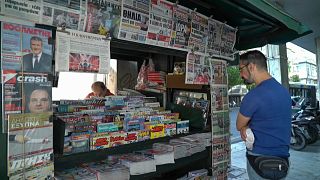 The news that European lenders have reached a debt-relief deal with Greece was greeted with cautious optimism by Athens residents who spoke the euronews.
The agreement gives the country a ten-year extension on the repayment of 96 billion euros of bailout loans.
"The creditors said congratulations but this does not mean that the economy is going to recover," said this woman in Athens, "I think several years will pass before we see any effect."
"I don't think the crisis is over," said this man. "The crisis is still here. We have just got a life extension."
This man was a little more optimistic:
"The Economy is like a circle. We have been through a very harsh period. Now I think the most important thing is for our economy to get back to a virtuous circle."
Under the deal, eurozone governments will also give Greece a final cash loan of 15 billion euros so it can at least stay afloat.
"You should not think that these developments will paint reality with a different colour by creating a much more colourful environment. On the other hand, these steps are positive," Panagiotis Petrakis, a professor of finance told euronews.