Morocco's hypnotic Gnaoua Music Festival
Comments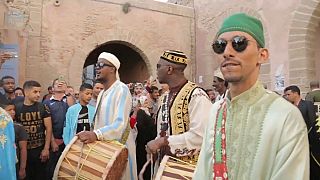 Morocco's 21st Gnaoua World Music Festival was held this year in the seaside town of Essaouira.
Gnaoua musicians from across the country celebrated their centuries' old musical traditions with their hypnotic singing and acrobatic dance moves.
Its songs and rhythms, are a mixture of Islamic Sufist and pre-Islamic African music and are intended to send its listeners into a trance.
It is considered to be at the roots of Blues, Rythem & Bues and Rock and many musicians including Jimmy Hendrix, Robert Plant, Jimmy Page were influenced by it.
For centuties many Moroccans have considered Gnaoua music capable of treating psychological disoders.
The name "Gnaoua" is derived from the West African state of Guinea and some of the stories told through it songs relate to slavery.
Those songs were handed down from black Africans who were once enslaved in Morocco but who have since been integrated into the North African's country's society and culture.